Building Electrification: Climate, Health, Equity
Resources and Organizations
The resources below and the downloadable list are constantly evolving as we learn about new resources. There are many wonderful organizations working on building decarbonization and related issues. If you would like to suggest a resource to be added here, please email info@sfbaypsr.org.
THANK YOU SF Bay PSR Interns Alma Hernandez for work on resources and community survey; Lilah Blalock for the infographics series; and Jasmine Campos for the Gas Stove Pollution Fact Sheet! Thank you to the team at National PSR and the Energy Foundation for all their support!


HEALTH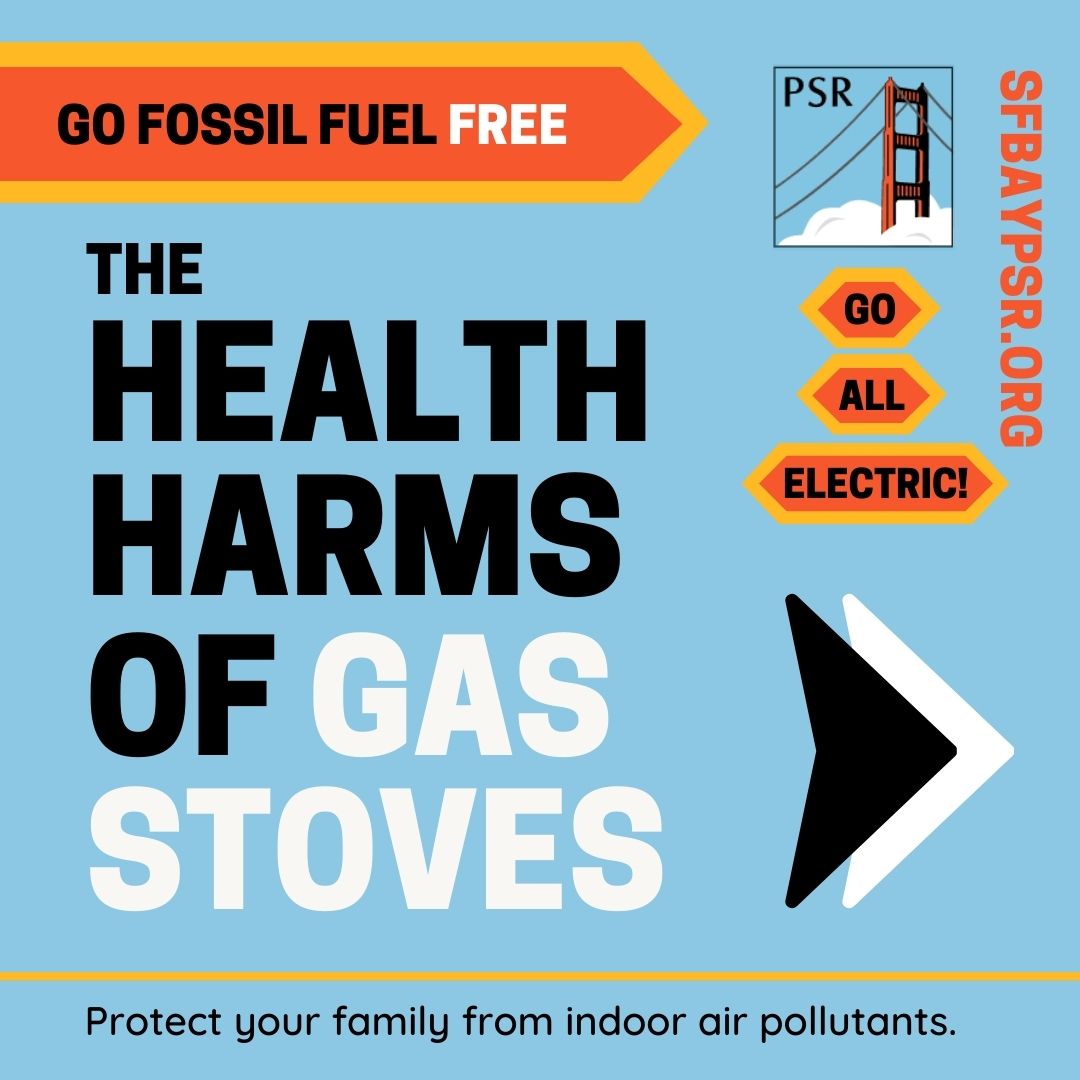 UPDATES, JANUARY 6, 2023:
PRESS RELEASE: Removing gas stoves from homes could prevent 20% of childhood asthma in California
NEW STUDY: Over 12% of US and 20% of California's childhood asthma cases can be attributed to gas stove use, a breaking new study published in the International Journal of Environmental Research and Public Health from RMI, Albert Einstein College of Medicine, and the University of Sydney. 
PSR National: PSR Gas Stove Pollution Fact Sheet (Thank you SF Bay PSR Intern Jasmine Campos!)
SF Bay PSR: Health Harms of Gas Stoves Patient Brochure (Thank you Andrea Eckstein Gara!)
SF Bay PSR: Estufas de Gas: Impactos en la Salud de Niños (Thank you Peninsula Clean Energy for the translation!)
RMI: All Electrical Homes: A Health Professional's Guide, a Toolkit, (Thank you RMI!)
PSR, Los Angeles: The Health Implications of Indoor Air Pollution, Electrification, and Decarbonization
PSR National: Find BE Resources from National and other PSR Chapters here
PSR, Mothers Out Front, RMI, Sierra Club: REPORT: Gas Stoves: Health and Air Quality Impacts and Solutions
UC Berkeley School of Public Health: Leaks from gas stoves can create toxic levels of hazardous air pollutants
PSE Full Report: Measuring Air Quality Impacts of Gas Stove Leaks (They found 10 toxic pollutants include benzene which is a carcinogen.)

EQUITY, ENERGY DEMOCRACY, ENVIRONMENTAL JUSTICE

Info for Renters and Lower-Income Families
BayREN: SF Bay Area home electrification rebates and financing
San Francisco Environment: Electrification Strategies for Renters
California Low-Income Energy Assistance Program
See more home electrification resources below.
Equity and Justice
Local Clean Energy Alliance Resources
PODER: Climate Equity & Community Engagement in Building Electrification Toolkit
Emerald Cities Collaborative Resources: a national nonprofits working on a just transition to a green economy
350 Bay Area: Decarbonize Buildings Policy Activism
PSR, Los Angeles: Air & Climate Justice Programs
Greenlining Institute: Equitable Building Electrification: A Framework for Powering Resilient Communities
East Bay Clean Power Alliance
BOOK: Energy Democracy: Advancing Equity in Clean Energy Solutions
UCLA: California Building Decarbonization Workforce Needs and Recommendations
UC Berkeley: BUILDING toward DECARBONIZATION: Policy Solutions to Accelerate Building Electrification in High-Priority Communities
Build It Green: Renter Protections in Equitable Building Decarbonization
ACEEE Report: Despite Progress, Low-Income Households Underserved by Utilities' Efficiency Programs

CLIMATE BENEFITS

PSR & SF Bay PSR: Gas Stove Pollution: A Fact Sheet
Menlo Spark: Ten Truths about Natural Gas
Greenlining: Equitable Building Electrification: A Framework for Powering Resilient Communities
Environmental Science and Technology: Methane and NOx Emissions from Natural Gas Stoves, Cooktops, and Ovens in Residential Homes
Scientific American: Methane Leaks Erase Some of the Climate Benefits of Natural Gas
California Air Resources Board (CARB): AB 32. Climate Change Scoping Plan
EPA: Sources of Greenhouse Gas Emissions




HYDROGEN, NOT IN OUR HOMES


EVENTS and EXPLAINER VIDEOS

WATCH HERE our 2022 event, Building Electrification: Climate, Health, Equity, broadcast on April 27, 2022, a two-hour special on the health harms of gas appliances and the benefits of electric homes to health and the environment, featuring Emma Hines of RMI; Jessica Guadalupe Tovar of Local Clean Energy Alliance; Krystal Pollitt of Environmental Health Sciences at Yale; and Zach Williams of PSR National
WATCH HERE our 2021 event, Electrification of Buildings: Climate, Health, Justice, broadcast on April 28, 2021, featuring Diane Bailey of Menlo Spark; Brady Seals of RMI's Carbon-Free Buildings program; and Antonio Díaz of PODER—People Organizing to Demand Economic and Environmental Right.