ACTION ALERTS
Below please find actions you can take on the local, state, and federal levels, to protect the environment, defend health, and demand justice, including anti-nuclear weapons policy advocacy. SUBSCRIBE to our Action Alert Emails at the SIGN UP button above.
In September: Oppose Carbon Capture, Support Electric Vehicle Equity, Support Rooftop Solar, Tell Biden to Reduce Threat of Nuclear War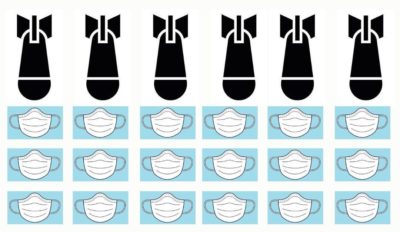 Anti-Nuclear Weapons Actions
Nuclear weapons are a local issue. Urge your local and state reps to speak out!
Demonstrating strong support for nuclear weapons abolition is especially important now, as the Biden Administration begins to prepare its Nuclear Posture Review, which determines the role of nuclear weapons in our security strategy. Unfortunately, the Administration's 2022 budget fully funds the new nuclear warheads the Trump Administration sought, squandering billions of our tax dollars on weapons that threaten our health and the environment while doing nothing to address current community needs and security issues.
This is the moment to build upon PSR's leadership in the Back from the Brink campaign that helped California cities and the State of California adopt resolutions supporting nuclear weapons abolition and a fundamental change in U.S. nuclear weapons policy. To date 50 municipalities and 6 state legislative bodies have adopted similar resolutions.
ACTIONS
Tell Biden to Reduce Threat of Nuclear War
SIGN your state's letter to Biden by Monday, September 20, 2021

Back from the Brink has initiated a sign-on letter to President Biden and Congressmembers for local elected officials to express their support for nuclear weapons abolition, eliminating wasteful nuclear weapons spending, and enacting common sense policies to reduce the threat of nuclear war. Over 200 elected officials have signed on so far, and we know many more support our policy solutions–but we need your help to reach them. Please find your state, take action, and please share widely. Sometimes all it takes is a constituent asking for support for an elected official to pay attention and sign on to the letter.
Thank you to PSR-LA and Denise Duffield for her leadership organizing this letter campaign.
READING
New York Times: Support for a Nuclear Weapons Ban Is Growing within NATO, an Advocacy Group Says
Investing in Cures Before Missiles Act (ICBM) (Senate: S.982. House: H.R.2227)
Representative Ro Khanna and Senator Ed Markey are working together to introduce this new ICBM Act, which aligns with our Back from the Brink campaign's call to "cancel enhanced nuclear weapons." The legislation would essentially redirect funds from destabilizing new weapons systems (such as the Ground Based Strategic Deterrent [GBSD] replacement for aging Minuteman III ICBMs and new W87-1 warhead) toward conducting research for the development of a universal coronavirus vaccine, and methods to combat emerging and zoonotic infectious diseases that pose the potential for future pandemics.
ACTION
THANK YOUR REPRESENTATIVES. Alongside Ro Khanna, CA Representatives Barbara Lee and Jared Huffman are co-sponsors. If one of them is your representative, please thank them. Otherwise, please call and/or write your member of Congress and ask them to co-sponsor the bill. Additional co-sponsors of H.R.2227 to date are Reps. James McGovern, Mark Pocan, Pramila Jayapal, Earl Blumenauer, Steve Cohen, Raul Grijalva, Jesus Garcia, Sheila Jackson Lee, Ayanna Pressley, Ilhan Omar, and Delegate Eleanor Holmes Norton. More information at www.congress.gov
READINGS
PSR Supports "NO FIRST USE"
Physicians for Social Responsibility salutes Senator Warren and Representative Smith for their leadership on this issue. Statement by Jeff Carter, PSR National Executive Director: "On April 15, Senator Elizabeth Warren and Representative Adam Smith reintroduced a simple, but profoundly important piece of legislation that, if passed, would make the world a much safer place, by making it the official policy of the United States that it will never, ever use a nuclear weapon first in any conflict. It remains shocking to us — and no doubt a surprise to many — that this is not U.S. policy already. Until we abolish these weapons altogether — which we must do — this is the only rational, humane approach for any country that maintains a nuclear weapons arsenal. Warren serves on Senate Armed Services Committee. Smith is Chair of House Armed Services Committee. Any attack using nuclear weapons would be a humanitarian catastrophe, and there is no conceivable circumstance that would justify the U.S. unleashing these doomsday weapons first. It's also worth noting that the Biden administration doesn't have to wait for action on this bill — they could and should direct the armed forces to adopt a 'no first use' policy immediately."
ACTION
CALL OR EMAIL to thank Senate co-sponsors Feinstein (D-Calif.), Leahy (D-Vt.), Merkley (D-Ore.), and Markey (D-Mass.).
READINGS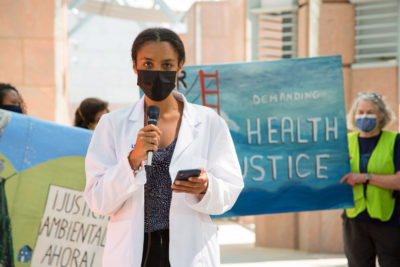 Dr. Aude Bouagnon speaks in front of the CalEPA. Photo courtesy of Jin Zhu. Thank you.

UPDATES
Protest to demand California EPA and the Department of Toxic Substances Control (DTSC) take immediate action to protect environmental justice communities
On August 30, 2021, SF Bay PSR Board Members Drs. Aude Bouagnon and Marjaneh Moini joined environmental justice groups from up and down California to converged on the CalEPA building in downtown Sacramento and speak out against the refusal by both agencies to follow science and protect the health of vulnerable communities.
Years of neglect, bad management, and denial have left California's children, their families, and the environment poisoned by radioactive and toxic waste sites, including SF Bayview Hunters Point. Industrial and military facilities contaminated with hazardous and radioactive wastes are disproportionately located in low-income, working-class, and communities of color. Residents and the environment are at risk due to inadequate cleanup and remediation of these sites.
We demand that CalEPA and DTSC take urgent action to address these injustices and health harms.
We demand that CalEPA focus on protecting air quality in Oakland, Richmond, and all over California and quickly ending our reliance on fossil fuels. Carbon capture, utilization and storage (CCUS) technologies and other false climate solutions should not be used to extend the life of fossil fuel operations that threaten our planet.
San Francisco Bay Physicians for Social Responsibility stands in solidarity with, and offers our strongest support for the demands of the communities across the state whose health has been harmed by the twin evils of racism and environmental injustice. Their demands are health and science based.
READ MORE
The Unified Demands from the Organizations Protesting CalEPA and DTSC
Environmental Justice Protest: Organizations Protesting CalEPA and DTSC
LA Times: Valley activists, residents head to Sacramento to demand cleanup of contaminated Santa Susana Field Lab
"CalEPA and DTSC are in bed with the polluters, lobbyists and corporate developers and are neglecting environmental justice communities, while our children are sick and dying."
SPONSORS
Bayview Hunters Point Mothers and Fathers Committee, California Environmental Justice Coalition, Central California Environmental Justice Network, Citizens for East Shore Parks, Comité Cívico del Valle, Concerned Residents of Laytonville, Del Amo Action Committee, El Pueblo Para el Aire y Agua Limpia/People for Clean Air and Water of Kettleman City, Extinction Rebellion SF Bay Area, Fresh Air Vallejo, Greenaction for Health and Environmental Justice, Marin City Climate Resilience and Health Justice, Occupy SF Environmental Justice Working Group, Parents Against Santa Susana Field Lab, Richmond Progressive Alliance, Richmond Shoreline Alliance, San Francisco Bay Physicians for Social Responsibility,  SF Bay Shoreline Contamination Cleanup Coalition, Social Justice Fund for Ventura County, Sunflower Alliance,  Tri-Valley CAREs, Valley Improvement Projects, and West Oakland Environmental Indicators Project.
* * *
A shout out to Youth vs Apocalypse Action for their climate strike on August 27 to defund Line 3 and demand CalSTRS to divest from Enbridge and all fossil fuels.


Health Professionals and allies in the San Francisco Bay Area Joined the National Day of Action Calling on President Biden to Stop Construction of Line 3 Fossil-Fuel Pipeline!
Health Professionals Say Climate Change is a Health Crisis and Line 3 Threatens Our Air, Water, and Future Generations.
August 17, 2021, a group of 15 health professionals and allies in San Francisco came together peacefully in front of the SF Army Corp of Engineers San Francisco headquarters to stand in solidarity with Indigenous and other directly-impacted communities and health professional allies in Minnesota as part of the National Day of Action against the Line 3 Pipeline. Dr. Aude Bouagnon read a letter signed by almost 200 health professionals calling on President Biden to revoke the permits and #StopLine3. Our request to the President was sent via the Army Corp because they have the authority to revoke the construction permit they issued and save the wetlands that Line 3 would cross. As noted by cardiologist Dr. Jeff Ritterman, "The rivers that run through Minnesota are like the arteries that run through our bodies. Polluting the rivers with tar sand is an inevitable consequence of the Line 3 construction. This is like giving Mother Earth heart attacks and strokes while it is also set on fire."
Health professionals in Minnesota have opposed Line 3 for several years in a movement led by Indigenous leaders. SF Bay PSR stands in solidarity with the water protectors who are engaging in peaceful protest are facing an increase in violence including tear gas, rubber bullets and mass arrests.
READING and RESOURCES
Health Professionals for a Healthy Climate report: Health Risks of the Enbridge Line 3 Pipeline Replacement Project
Health Professionals for a Healthy Climate factsheet: Health Impacts of Line 3
VISIT STOP LINE 3 WEBSITE for updates and lots of info.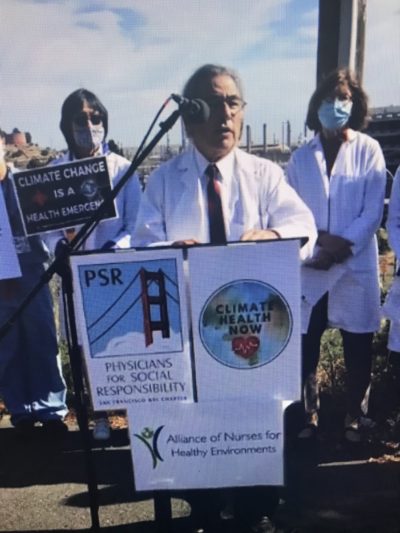 Dr. Jeff Ritterman speaks at press conference
BAY AREA
BIG NEWS!
We won a HUGE victory step toward reducing air pollution and protecting community health in the Bay Area!
The Bay Area Air Quality Management District's Board of Directors voted on July 21 to further reduce particulate matter emissions from petroleum refineries with a yes vote for Regulation 6, Rule 5: Particulate Emissions from Refinery Fluidized Catalytic Cracking Units.
The rule is now the most health-protective and stringent regulation of its kind in the country. It is a huge environmental justice win! A million mostly people of color who live near the East Bay refineries have for years disproportionately suffered from respiratory, circulatory and heart disorders, cancer, asthma, and early death.
"I know that in all my years of practice, what I have done has saved lives," 35-year medical oncologist Dr. Janice Kirsch [SF Bay Board Member] told the board. "But what you can do today will save more lives from cancer than two or three of my careers." Reuters
THANK YOU to everyone who helped organize, wrote emails, gave testimony at the hearings, and more!
CONGRATS to Communities for a Better Environment, Sunflower Alliance, 350 Bay Area and more that have been leading this struggle for many years.
BRAVO to Dr. Amanda Millstein of Climate Health Now for organizing health professionals and community press conferences, and to SF Bay PSR Board Members Drs. Janice Kirsch, Tom Newman, Jeff Ritterman, Marjaneh Moini, and Bob Gould, and to all other SF Bay PSR members who pitched in!
READING
Reuters: Northern California requires oil refineries to slash air pollution
BAAQMD: Press Release
Communities for a Better Environment: Fact vs Myth Rule 6-5
San Jose Mercury: Bay Area Refinery Rules Would Improve Environment and Health
East Bay Times: Refinery rules would improve Bay Area health

SF Bay PSR Board Member Dr. Aude Bouagnon spoke at a rally on Earth Day 2021 to support Bayview Hunters Point community efforts to advocate for the clean up of toxic wastes harming the health of residents. Photo by Dr. Ahimsa Sumchai.
ONGOING
Contact San Francisco Mayor Breed & Board of Supervisors to ask them to ACT NOW:
● Declare a Public Health Emergency in Bayview Hunters Point and Treasure Island!
● Declare a moratorium on shipyard development and Lennar's unsafe soil excavation!
● Conduct full retesting, safe cleanup and removal of all radioactive and toxic contamination at Hunters Point Shipyard Superfund Site & Treasure Island!
The San Francisco Hunters Point Naval Shipyard site was home to a Naval shipyard repair facility from 1945 to 1974 and the Naval Radiological Defense Laboratory (NRDL) from 1948 to 1960. These facilities contaminated soil, dust, sediments, surface water and groundwater with toxic chemicals, heavy metals, PCBs, volatile organic compounds (VOCs) and radionuclides.
We are honored to support the Bayview Hunters Point Community Advocates in their efforts to fight for environmental justice.
READINGS & RESOURCES can be found HERE.

Help Limit Building Emissions in the Bay Area
In conjunction with our April 28 event on electrification of buildings, please take action!
Gas appliance pollution is damaging our climate, health, and air quality. The Bay Area Air Quality Management District (BAAQMD) already has rules limiting nitrogen oxide (NOx) emissions from home water heaters and furnaces, but the current standards allow pollution to persist. On April 19, staff announced its plan to work with stakeholders to develop zero-NOx emissions standards for residential furnaces and water heaters. Sometime in July 2021, staff will host a public workshop to discuss equity, affordability, and rule implementation timeline. If you are interested in joining the discussion, please fill out this form and RMI and our partners will send you more information later this summer and alert you to future advocacy opportunities.

Statement on Public Health Threat of Policing

We at SF Bay PSR are deeply saddened and outraged by the recent killing by police of Duante Wright, 13-year-old Adam Toledo, and the daily killings of people, particularly people of color, by police in the US. It must stop. Our hearts go out to their families and communities. Please WATCH the recording of our event and discussion, The Public Health Threat of Policing and Mass Incarceration with Zach Norris, executive director of the Ella Baker Center, and Dr. Jennifer James, professor and researcher at University of California, San Francisco.
Racism is a public health crisis and we are committed to exposing the interconnections of racism in climate, environmental, health equity, and anti-nuclear issues.


BEYOND the FIRST 100 DAYS
Let's keep the pressure on the Biden-Harris administration and your congressional representatives. Tell them you want to see in a "Green New Deal" that justly transitions us to a green economy.
To read more about President-Elect Biden's positions on "Green New Deal" polices please see our recent newsletters.
Support the Thrive Agenda and contact your representatives. Supported by 200 grassroots organizations and 83 members of Congress, the Thrive Agenda is a roadmap to a just recovery from our climate crisis, the global pandemic, and the intertwining of persistent racial injustice, Make your voice heard!
Also, please support the Third Reconstruction resolution, introduced on May 24, 2021, by Congresswomen Barbara Lee and Pramila Jayapal, in collaboration with the Poor People's Campaign, "Realizing a Third Reconstruction: A Moral and Political Commitment to Fully Address Poverty and Low-Wealth in America by Building Up from the Bottom."
Tell Congress to invest in clean energy: Tell Congress to Invest in a Clean Energy Future
President Joe Biden has proposed the American Jobs Plan, which can put people back to work, rebuild our aging infrastructure, accelerate our shift to clean energy, and improve our resilience to the climate impacts we can no longer avoid.
READ MORE at PSR National.

VISIT the MEMORIAL to Healthcare workers lost to the pandemic

"Lost on the Frontline," an online memorial launched by the Guardian and Kaiser Family Foundation's Kaiser Health News to honor and memorialize all of the frontline health-care workers who have died because of COVID-19.
SHARE
The National Academy of Medicine offers Resources to Support the Health and Well-Being of Clinicians During COVID-19
NurseJournal.org: How Nurses Can Combat Compassion Fatigue