ACTION ALERTS
Below please find actions you can take on the local, state, and federal levels, to protect the environment, defend health, and demand justice, including anti-nuclear weapons policy advocacy. SUBSCRIBE to our Action Alert Emails at the SIGN UP button above. And please follow us on Twitter @SFBayPSR, for more immediate news and info.

Protect Frontline Communities from Dangerous Drilling
Right now, more than 2 million Californians are living and breathing the toxic health impacts of oil and gas drilling sites in their neighborhoods. Just last month, Governor Gavin Newsom issued a draft regulation to stop new drilling within 3,200 feet of homes, hospitals, schools, and other sensitive receptors. Now, a 60-day comment period allows the public to raise our voices to support the VISIÓN coalition's demands:
1. SUPPORT the 3,200-foot setback for new wells
2. DEMAND that the setback rule applies to existing wells, not just new wells
3. URGE the Governor's administration and CalGEM (state entity that regulates oil and gas) to take emergency action to ban all new permits within the setback until the final rule is in effect.
Wednesday December 1, at 5pm, PT, on Zoom
Give verbal public testimony on the set of science-based health and safety draft regulations to protect communities and workers from the impacts of nearby oil and gas production operations.
California Health Professionals stand with VISIÓN
A virtual training hosted by PSR-LA, a member of the VISIÓN coalition
Monday, November 29, 6:30 – 7:30 pm PT, online
REGISTER HERE
Physicians for Social Responsibility Los Angeles, a member of the VISIÓN coalition, is hosting a statewide health professional meeting to organize and demand the Governor protect public health. Join the conversation to learn how health professionals can stand up against Big Oil to phase out oil drilling in California. The purpose of this conversation is to organize ourselves to support and amplify the demands VISION has put forth above.
SPEAKERS
Martha Dina Argüella, Executive Director, PSR-LA
Marjaneh Moini, MD, Board Member, SF Bay PSR
Linda Rudolph, MD, MPH, Director, Center for Climate Change and Health at Public Health Institute
Please share with your network!

PSR National and SF Bay PSR Call on CalPERS to Divest from Fossil Fuels
SF Bay PSR's Divestment/Investment Task Force has been steadily pushing the California Public Employees' Retirement System (CalPERS), which manages pensions for 1.6 million workers, to divest from fossil fuels. READ our most recent letter sent to the CalPERS board before their Nov 15–17 meeting, written by Dr. Robert M. Gould, past-President and current member of the National Board of Physicians for Social Responsibility (PSR), and president for San Francisco Bay PSR.

"Representing thousands of health professionals, we speak for the health of our patients and communities. As such, PSR calls for CALPERS to completely divest from coal and other fossil fuels, and instead invest its vast financial holdings in truly safe, renewable and sustainable, non-nuclear energy portfolios that could provide a prosperous future for its clients, while averting the most catastrophic public and environmental health consequences of global warming that threaten all human civilization.
The recently released assessment by the Intergovernmental Panel on Climate Change is unequivocal in its call for urgent action to ensure an energy efficient and fossil free future. This call was recently reinforced by the unprecedented coordinated response of numerous prominent medical and health professional societies, with many journals such as the prestigious New England Journal of Medicine calling for emergency action on our climate crisis. This call to action flows from the widespread understanding within the broad health professional community about the rapidly unfolding impacts of global warming that gravely threaten our health."

PROTECT SOLAR ROOFTOPS in California
PG&E, So Cal Edison, and San Diego Gas & Electric are lobbying the California Public Utilities Commission (CPUC) to make consumer solar twice as expensive than it is today. This would put solar out of reach for the working and middle class, just when it is taking off.
DEADLINE: The California Public Utilities Commission is expected to rule on the future of net metering in the state near the end of 2021.
ACTION
At issue is a proposal for the CPUC to use a new method to calculate the value of rooftop solar. The method was developed for the CPUC by a consulting firm that is also routinely hired by utilities to produce reports slanted against local solar and in favor of large solar and wind farms.
These new calculations would make it look like rooftop solar provides just a fraction of the benefits that it actually provides. This would justify the utilities' proposal to slap solar users with new monthly fees and slash the credit for sharing extra solar energy with the neighborhood.
Expect more of these kinds of alerts throughout the year. We defeated AB 1139, but the Utility Profit Grab is alive and well at the CPUC. It will take constant vigilance to stop it.
READING
Frontier Group and Environment America Research & Policy Center Report: Block Rooftop Solar: The Companies, Lobbyists and Front Groups Undermining Local Green Energy
PV Magazine: The Electric Utility Anti-Rooftop Solar Playbook
Save California Solar: Fact sheet explaining the entire situation at the CPUC

UPDATE!
Healthy Climate Prescription Letter delivered to World leaders at COP26
THANK YOU to the Global Climate and Health Alliance and everyone who signed!
San Francisco Bay Physicians for Social Responsibility joined 46 million health workers from around the world to send a message to national leaders and country delegations, calling for real action to address the climate crisis.
The video above was released along with the delivery of the letter to the presidencies of both COP26, and 2022's COP27 in Egypt, calling for global climate action on health. The letter can be found here.
READING
COP26 is the most important UN climate summit since Paris, 2015. But why?
Check out this beautiful infographic that explains why, click here.
UN Climate Change COP26: Official Press Releases
UK Guardian: Some of the best latest News from the COP26 climate crisis conference in Glasgow, click here.
Washington Post: What you need to know about the U.N. COP26 climate summit — and why it matters

BRAVO to all who joined the COP26 global day of action on Saturday, Nov 6!
On Saturday, November 6, SF Bay Physicians for Social Responsibility joined 350 Bay Area, Youth versus Apocalypse, Extinction Rebellion and many others at a multigenerational, youth-led march for a Global Day of Action for Environmental Justice, organized by UK based COP26 Coalition. Bravo to PSR Board Member Dr. Marjaneh Moini and UCSF Medical Student Karly Hampshire, who spoke on behalf of SF Bay PSR and Medical Students for a Sustainable Future, and was quoted in KQED News.

FOSSIL FUEL NON-PROLIFERATION TREATY
Climate change, like nuclear weapons, is a major global threat.
Countries, cities, environmental groups, scientists, health institutions representing over 100,000 doctors, and others call on governments to urgently commence negotiations to develop, adopt and implement a Fossil Fuel Non-Proliferation Treaty laying out a binding global plan to:
End new expansion of fossil fuel production in line with the best available science as outlined by the Intergovernmental Panel on Climate Change (IPCC) and the United Nations Environment Programme
Phase out existing production of fossil fuels in a manner that is fair and equitable, taking into account the respective dependency of countries on fossil fuels, and their capacity to transition;
Invest in a transformational plan to ensure 100% access to renewable energy globally, support fossil fuel-dependent economies to diversify away from fossil fuels, and enable people and communities across the globe to flourish through a global just transition.

Support Fossil Free Finance Act
Send letters to Senators Dianne Feinstein and Alex Padilla
The fossil fuel industry has 503 lobbyists at the COP26 climate summit. If the fossil fuel lobby were a country delegation at COP26, it would be the largest with two dozen more representatives than the largest current country delegation.
Last week, Senators Ed Markey and Jeff Merkley introduced the Senate version of the Fossil Free Finance Act, which would require the Federal Reserve to ban the financing of any fossil fuel projects or activities, effectively cutting off the flow of funds from big banks. Representatives Mondaire Jones, Rashida Tlaib, and Ayanna Pressley introduced the House version of the bill in September with 21 co-sponsors.
While we continue to pressure President Biden to nominate a new climate champion as Federal Reserve Chair, this bill is a huge opportunity to finally change how the financial sector invests in fossil fuels and turn the tides for our climate.
If this bill passes, big banks would NOT be allowed to finance:
   New or expanded fossil fuel projects after 2022
   All fossil fuel projects after 2030
   Thermal coal financing after 2024
The Fossil Free Finance Act is endorsed by Public Citizen, 350.org, Evergreen Action, Zero Hour, Stand.earth, Friends of the Earth US, Future Coalition, Action Center on Race and the Economy, Revolving Door Project, Sunrise Movement, Americans for Financial Reform, and Sierra Club.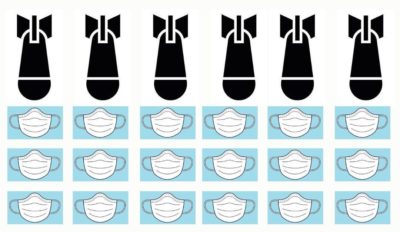 Anti-Nuclear Weapons Actions
Nuclear weapons are a local issue. Urge your local and state reps to speak out!
SF Bay PSR is working closely with the PSR National office on efforts in three main areas related to nuclear weapons abolition goals envisioned in our Back from the Brink (BftB) campaign. First, we are supporting legislation that would divert wasteful military spending, particularly on nuclear modernization efforts, to address graver threats to our country illustrated by our COVID pandemic. We are supporting national legislation advocating for limits on sole Presidential authority to launch a nuclear attack, and for our government to declare a policy of no-first-use of nuclear weapons. Also, we are encouraging the Biden Administration's return to diplomacy after the destructive "America First" policies of the Trump Administration.
In California, we are working with cities and the State of California to adopt resolutions supporting nuclear weapons abolition and a fundamental change in U.S. nuclear weapons policy. To date 50 municipalities and 6 state legislative bodies have adopted similar resolutions.
Thank you to SF Bay PSR intern Jasmine Campos for helping with this section.
* * *
ACTIONS and UPDATES
SF Bay PSR has supported the following actions and policy proposals.
Governments: commit to meaningful military emissions cuts at COP26
SF Bay PSR and many other PSR chapters joined more than 222 organizations to endorsed this joint call to action organized by the Conflict and Environment Observatory.
The 2015 Paris Agreement left cutting military greenhouse gas (GHG) emissions to the discretion of individual nations. Militaries are major emitters and should not be excluded from GHG reduction targets. Governments must demonstrate their commitment to the Paris targets by setting military GHG reduction targets at COP26. Militaries and the industries that support them can no longer be viewed as exceptional and must take urgent and significant action to reduce their GHG emissions and environmental bootprint.
In order for governments commitments to reducing military GHG emission to be credible and meaningful, they must:
Set clear GHG emission reduction targets for the military that are consistent with the 1.5ºC target specified by the 2015 Paris Agreement;
Commit to GHG emission reporting mechanisms that are robust, comparable and transparent, are based on the GHG protocol, and which are independently verified;
Set clear targets for the military to conserve energy, reduce reliance on fossil fuels and switch to environmentally responsible renewable energy;
Publish GHG reduction policies, strategies and action plans, with annual follow-up reporting on performance;
Commit to incorporating climate and environmental assessments in decision-making for all procurement, activities and missions;
Highlight the relationship between climate change and environmental degradation, and demonstrate a commitment to reducing the overall environmental impact of all military activities and missions.
Guardian: World's militaries avoiding scrutiny over emissions, scientists say
Scientists for Global Responsibility: The carbon boot-print of the military
The Military Emission Gap Website: look up your country's military emissions data

Reducing the Military Carbon Footprint (H.R. 767)
Congresswoman Barbara Lee (CA-13) calls for a Congressional resolution aimed at monitoring and reducing the military carbon footprint, which is the single largest institution emitting greenhouse gases in the world. It also calls for the military to set reduction targets in line with the goals under the 2015 Paris Agreement and the National Defense Authorization Act of 2022.
ACTION
WRITE to your representatives and ask them to support this resolution.


COVID Defense Act (H.R. 5461)
Congressman Mark Pocan (WI)introduced this act to rescind 1.3 percent of total defense spending and authorize the same amount for international COVID vaccine production and distribution. The bill currently has 25 cosponsors.
ACTION
WRITE to your representatives and ask them to support this resolution.

Investing in Cures Before Missiles Act (ICBM) (Senate: S.982. House: H.R.2227)
Representative Ro Khanna and Senator Ed Markey are working together to introduce this new ICBM Act, which aligns with our Back from the Brink campaign's call to "cancel enhanced nuclear weapons." The legislation would essentially redirect funds from destabilizing new weapons systems (such as the Ground Based Strategic Deterrent [GBSD] replacement for aging Minuteman III ICBMs and new W87-1 warhead) toward conducting research for the development of a universal coronavirus vaccine, and methods to combat emerging and zoonotic infectious diseases that pose the potential for future pandemics.
UPDATE: As of 3/25/2021 the ICBM Act has been read twice and referred to the Committee on Armed Services.
ACTION
THANK YOUR REPRESENTATIVES. Alongside Ro Khanna, CA Representatives Barbara Lee and Jared Huffman are co-sponsors. If one of them is your representative, please thank them. Otherwise, please call and/or write your member of Congress and ask them to co-sponsor the bill. Additional co-sponsors of H.R.2227 to date are Reps. James McGovern, Mark Pocan, Pramila Jayapal, Earl Blumenauer, Steve Cohen, Raul Grijalva, Jesus Garcia, Sheila Jackson Lee, Ayanna Pressley, Ilhan Omar, and Delegate Eleanor Holmes Norton. More information at www.congress.gov
READ MORE

PSR Supports "NO FIRST USE"
Physicians for Social Responsibility salutes Senator Warren and Representative Smith for their leadership on this issue. Statement by Jeff Carter, PSR National Executive Director: "On April 15, Senator Elizabeth Warren and Representative Adam Smith reintroduced a simple, but profoundly important piece of legislation that, if passed, would make the world a much safer place, by making it the official policy of the United States that it will never, ever use a nuclear weapon first in any conflict. It remains shocking to us — and no doubt a surprise to many — that this is not U.S. policy already. Until we abolish these weapons altogether — which we must do — this is the only rational, humane approach for any country that maintains a nuclear weapons arsenal. Warren serves on Senate Armed Services Committee. Smith is Chair of House Armed Services Committee. Any attack using nuclear weapons would be a humanitarian catastrophe, and there is no conceivable circumstance that would justify the U.S. unleashing these doomsday weapons first. It's also worth noting that the Biden administration doesn't have to wait for action on this bill — they could and should direct the armed forces to adopt a 'no first use' policy immediately."
ACTION
CALL OR EMAIL to thank Senate co-sponsors Feinstein (D-Calif.), Leahy (D-Vt.), Merkley (D-Ore.), and Markey (D-Mass.).
READ MORE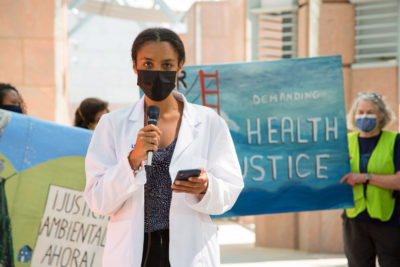 Dr. Aude Bouagnon speaks in front of the CalEPA. Photo courtesy of Jin Zhu. Thank you.

MORE UPDATES & ONGOING EFFORTS
Protest to demand California EPA and the Department of Toxic Substances Control (DTSC) take immediate action to protect environmental justice communities
On August 30, 2021, SF Bay PSR Board Members Drs. Aude Bouagnon and Marjaneh Moini joined environmental justice groups from up and down California to converged on the CalEPA building in downtown Sacramento and speak out against the refusal by both agencies to follow science and protect the health of vulnerable communities.
Years of neglect, bad management, and denial have left California's children, their families, and the environment poisoned by radioactive and toxic waste sites, including SF Bayview Hunters Point. Industrial and military facilities contaminated with hazardous and radioactive wastes are disproportionately located in low-income, working-class, and communities of color. Residents and the environment are at risk due to inadequate cleanup and remediation of these sites.
We demand that CalEPA and DTSC take urgent action to address these injustices and health harms.
We demand that CalEPA focus on protecting air quality in Oakland, Richmond, and all over California and quickly ending our reliance on fossil fuels. Carbon capture, utilization and storage (CCUS) technologies and other false climate solutions should not be used to extend the life of fossil fuel operations that threaten our planet.
San Francisco Bay Physicians for Social Responsibility stands in solidarity with, and offers our strongest support for the demands of the communities across the state whose health has been harmed by the twin evils of racism and environmental injustice. Their demands are health and science based.
READ MORE
The Unified Demands from the Organizations Protesting CalEPA and DTSC
Environmental Justice Protest: Organizations Protesting CalEPA and DTSC
LA Times: Valley activists, residents head to Sacramento to demand cleanup of contaminated Santa Susana Field Lab
"CalEPA and DTSC are in bed with the polluters, lobbyists and corporate developers and are neglecting environmental justice communities, while our children are sick and dying."
SPONSORS
Bayview Hunters Point Mothers and Fathers Committee, California Environmental Justice Coalition, Central California Environmental Justice Network, Citizens for East Shore Parks, Comité Cívico del Valle, Concerned Residents of Laytonville, Del Amo Action Committee, El Pueblo Para el Aire y Agua Limpia/People for Clean Air and Water of Kettleman City, Extinction Rebellion SF Bay Area, Fresh Air Vallejo, Greenaction for Health and Environmental Justice, Marin City Climate Resilience and Health Justice, Occupy SF Environmental Justice Working Group, Parents Against Santa Susana Field Lab, Richmond Progressive Alliance, Richmond Shoreline Alliance, San Francisco Bay Physicians for Social Responsibility,  SF Bay Shoreline Contamination Cleanup Coalition, Social Justice Fund for Ventura County, Sunflower Alliance,  Tri-Valley CAREs, Valley Improvement Projects, and West Oakland Environmental Indicators Project.
* * *
A shout out to Youth vs Apocalypse Action for their climate strike on August 27 to defund Line 3 and demand CalSTRS to divest from Enbridge and all fossil fuels.


Health Professionals and allies in the San Francisco Bay Area Joined the National Day of Action Calling on President Biden to Stop Construction of Line 3 Fossil-Fuel Pipeline!
Health Professionals Say Climate Change is a Health Crisis and Line 3 Threatens Our Air, Water, and Future Generations.
August 17, 2021, a group of 15 health professionals and allies in San Francisco came together peacefully in front of the SF Army Corp of Engineers San Francisco headquarters to stand in solidarity with Indigenous and other directly-impacted communities and health professional allies in Minnesota as part of the National Day of Action against the Line 3 Pipeline. Dr. Aude Bouagnon read a letter signed by almost 200 health professionals calling on President Biden to revoke the permits and #StopLine3. Our request to the President was sent via the Army Corp because they have the authority to revoke the construction permit they issued and save the wetlands that Line 3 would cross. As noted by cardiologist Dr. Jeff Ritterman, "The rivers that run through Minnesota are like the arteries that run through our bodies. Polluting the rivers with tar sand is an inevitable consequence of the Line 3 construction. This is like giving Mother Earth heart attacks and strokes while it is also set on fire."
Health professionals in Minnesota have opposed Line 3 for several years in a movement led by Indigenous leaders. SF Bay PSR stands in solidarity with the water protectors who are engaging in peaceful protest are facing an increase in violence including tear gas, rubber bullets and mass arrests.
READING and RESOURCES
Health Professionals for a Healthy Climate report: Health Risks of the Enbridge Line 3 Pipeline Replacement Project
Health Professionals for a Healthy Climate factsheet: Health Impacts of Line 3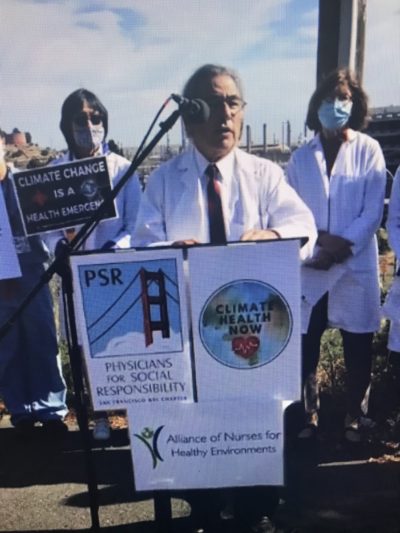 Dr. Jeff Ritterman speaks at press conference
BAY AREA
BIG NEWS!
We won a HUGE victory step toward reducing air pollution and protecting community health in the Bay Area!
The Bay Area Air Quality Management District's Board of Directors voted on July 21 to further reduce particulate matter emissions from petroleum refineries with a yes vote for Regulation 6, Rule 5: Particulate Emissions from Refinery Fluidized Catalytic Cracking Units.
The rule is now the most health-protective and stringent regulation of its kind in the country. It is a huge environmental justice win! A million mostly people of color who live near the East Bay refineries have for years disproportionately suffered from respiratory, circulatory and heart disorders, cancer, asthma, and early death.
"I know that in all my years of practice, what I have done has saved lives," 35-year medical oncologist Dr. Janice Kirsch [SF Bay Board Member] told the board. "But what you can do today will save more lives from cancer than two or three of my careers." Reuters
THANK YOU to everyone who helped organize, wrote emails, gave testimony at the hearings, and more!
CONGRATS to Communities for a Better Environment, Sunflower Alliance, 350 Bay Area and more that have been leading this struggle for many years.
BRAVO to Dr. Amanda Millstein of Climate Health Now for organizing health professionals and community press conferences, and to SF Bay PSR Board Members Drs. Janice Kirsch, Tom Newman, Jeff Ritterman, Marjaneh Moini, and Bob Gould, and to all other SF Bay PSR members who pitched in!
READING
Reuters: Northern California requires oil refineries to slash air pollution
BAAQMD: Press Release
Communities for a Better Environment: Fact vs Myth Rule 6-5
San Jose Mercury: Bay Area Refinery Rules Would Improve Environment and Health
East Bay Times: Refinery rules would improve Bay Area health

SF Bay PSR Board Member Dr. Aude Bouagnon spoke at a rally on Earth Day 2021 to support Bayview Hunters Point community efforts to advocate for the clean up of toxic wastes harming the health of residents. Photo by Dr. Ahimsa Sumchai.
ONGOING
Contact San Francisco Mayor Breed & Board of Supervisors to ask them to ACT NOW:
● Declare a Public Health Emergency in Bayview Hunters Point and Treasure Island!
● Declare a moratorium on shipyard development and Lennar's unsafe soil excavation!
● Conduct full retesting, safe cleanup and removal of all radioactive and toxic contamination at Hunters Point Shipyard Superfund Site & Treasure Island!
The San Francisco Hunters Point Naval Shipyard site was home to a Naval shipyard repair facility from 1945 to 1974 and the Naval Radiological Defense Laboratory (NRDL) from 1948 to 1960. These facilities contaminated soil, dust, sediments, surface water and groundwater with toxic chemicals, heavy metals, PCBs, volatile organic compounds (VOCs) and radionuclides.
We are honored to support the Bayview Hunters Point Community Advocates in their efforts to fight for environmental justice.
READINGS & RESOURCES can be found HERE.

Help Limit Building Emissions in the Bay Area
In conjunction with our April 28 event on electrification of buildings, please take action!
Gas appliance pollution is damaging our climate, health, and air quality. The Bay Area Air Quality Management District (BAAQMD) already has rules limiting nitrogen oxide (NOx) emissions from home water heaters and furnaces, but the current standards allow pollution to persist. On April 19, staff announced its plan to work with stakeholders to develop zero-NOx emissions standards for residential furnaces and water heaters. Sometime in July 2021, staff will host a public workshop to discuss equity, affordability, and rule implementation timeline. If you are interested in joining the discussion, please fill out this form and RMI and our partners will send you more information later this summer and alert you to future advocacy opportunities.

Statement on Public Health Threat of Policing

We at SF Bay PSR are deeply saddened and outraged by the recent killing by police of Duante Wright, 13-year-old Adam Toledo, and the daily killings of people, particularly people of color, by police in the US. It must stop. Our hearts go out to their families and communities. Please WATCH the recording of our event and discussion, The Public Health Threat of Policing and Mass Incarceration with Zach Norris, executive director of the Ella Baker Center, and Dr. Jennifer James, professor and researcher at University of California, San Francisco.
Racism is a public health crisis and we are committed to exposing the interconnections of racism in climate, environmental, health equity, and anti-nuclear issues.


BEYOND the FIRST 100 DAYS
Let's keep the pressure on the Biden-Harris administration and your congressional representatives. Tell them you want to see in a "Green New Deal" that justly transitions us to a green economy.
To read more about President-Elect Biden's positions on "Green New Deal" polices please see our recent newsletters.
Support the Thrive Agenda and contact your representatives. Supported by 200 grassroots organizations and 83 members of Congress, the Thrive Agenda is a roadmap to a just recovery from our climate crisis, the global pandemic, and the intertwining of persistent racial injustice, Make your voice heard!
Also, please support the Third Reconstruction resolution, introduced on May 24, 2021, by Congresswomen Barbara Lee and Pramila Jayapal, in collaboration with the Poor People's Campaign, "Realizing a Third Reconstruction: A Moral and Political Commitment to Fully Address Poverty and Low-Wealth in America by Building Up from the Bottom."
Tell Congress to invest in clean energy: Tell Congress to Invest in a Clean Energy Future
President Joe Biden has proposed the American Jobs Plan, which can put people back to work, rebuild our aging infrastructure, accelerate our shift to clean energy, and improve our resilience to the climate impacts we can no longer avoid.
READ MORE at PSR National.

VISIT the MEMORIAL to Healthcare workers lost to the pandemic

"Lost on the Frontline," an online memorial launched by the Guardian and Kaiser Family Foundation's Kaiser Health News to honor and memorialize all of the frontline health-care workers who have died because of COVID-19.
SHARE
The National Academy of Medicine offers Resources to Support the Health and Well-Being of Clinicians During COVID-19
NurseJournal.org: How Nurses Can Combat Compassion Fatigue