EVENTS
You're invited! The events below are open to everyone (not just physicians).
Below, please find events hosted by SF Bay PSR and other organizations.
For action events such as rallies and marches, please visit our Action Alert page here.
Missed an event? WATCH archived events here!
Please click the sign-up button above to receive our monthly events email.
April: De-Militarization and Re-Prioritization of National Spending, more details coming soon
May: Health Harms of Extreme Heat and Need for Affordable, Electric Heat-Cooling Pumps, more details coming soon
September 27: SAVE the DATE: Annual Virtual Gala with Dr. Cheryl Holder, Associate Dean for Diversity, Equity, Inclusivity, and Community Initiatives at Florida International University
Movie Night suggestions!
Committee dates and more!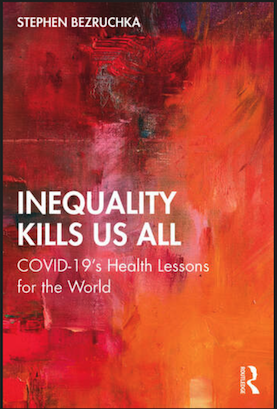 Inequality Kills Us All
with Stephen Bezruchka
A Racial Equity Reading Group Discussion
In 2023, we will be hosting four discussions in February, April, September, and November with authors and leaders in racial equity.
You're invited to learn more about issues of racial equity, particularly as they relate to the fields of public health and medicine. The discussions are open to anyone (not just health professionals) seeking to deepen their personal understanding of issues related to systemic racism and strengthen their commitment toward creating a more just, equitable, and healthy world.
Our hearts go out to Tyre Nichols' family and friends, and to all those who have lost loved ones by gun and police violence. This discussion series is also part of our ongoing commitment to address the public health emergencies of gun and police violence, particularly toward African-Americans who are three times more likely to be killed by police than white people.
Discussion with Stephen Bezruchka
author of Inequality Kills Us All: COVID-19's Health Lessons for the World
Tuesday, February 21, 7:00 pm PT, online
BEFORE joining the discussion:
1. Please listen to this radio show: 
About Health with host RN Rona Renner and guest Stephen Bezruchka
Monday: February 13, 10:40 AM PT, or online at KPFA Radio
After Monday, you can listen to the show online at your leisure.

2.  Please read this article by Bezruchka: "Inequality is literally killing us: The most unequal societies suffer most in public health metrics"
3. If you have the time, please also read his outstanding book. You can buy it at this link or ask your local library for a copy: Inequality Kills Us All: COVID-19's Health Lessons for the World, published by Routledge.
Stephen Bezruchka is a graduate of Harvard, Johns Hopkins, and Stanford universities. He teaches courses in population health in the Departments of Health Systems and Population Health and of Global Health as faculty in the School of Public Health at the University of Washington. He worked clinically as a doctor for 35 years including three decades as an emergency physician.  He spent over 11 years in Nepal, writing the first trekking guide to that country, running a community health project a week's walk from the road, training Nepali doctors in a remote district hospital, and advancing concepts of population health. He created the Population Health Forum in 1997. He serves on the board of directors of the Washington Physicians for Social Responsibility and works with its Economic Inequity Health Task Force.

MOVIE NIGHTS!
Big Oil's Last Lifeline
A 3-part docuseries sounding the alarm on the petrochemical industry's impact on Black, Brown, and Indigenous communities.
Everyday, the oil, gas and petrochemical industry writes off Black, Brown and Indigenous communities as "sacrifice zones." The industry violates laws with impunity and rationalizes the unconscionable – they dump cancer-causing pollution into communities of color and try to cover it up.
Big Oil's Last Lifeline takes us to the frontlines of the U.S.'s epicenters for petrochemical production: West Virginia, Houston, and along the Mississippi River in Louisiana.
* * *
The Power of Big Oil
A PBS Frontline Special
We highly recommend PBS's Frontline show, "The Power of Big Oil." This in-depth, three-part series examines the fossil fuel industry's history of casting doubt and delaying action on climate change. It traces decades of missed opportunities and the ongoing attempts to hold Big Oil to account.
* * *
YOUTH v. GOV
An independent, award-winning documentary about Juliana v. United States
Climate Psychiatry Alliance co-founder, Lise Van Susteren has been the forensic psychiatric consultant on this historically significant, groundbreaking constitutional CLIMATE case brought by 21 youth plaintiffs.
For over 10 years, Our Children's Trust's legal actions seek systemic, science-based climate mitigation actions by governments, demanding that our leaders tackle the roots of the climate crisis rather than just the branches of its impacts.
OCT has represented and supported youth plaintiffs in climate litigation around the globe–including Juliana v. United States, Held v. Montana, & La Rose v. Her Majesty the Queen–as they advocate for their right to a stable climate.
* * *
In the Dark of the Valley
A film featuring PSR-LA's Dr. Bob Dodge and Denise Duffield!
In the Dark of the Valley is the first feature film to focus on the Santa Susana Field Laboratory, a former nuclear and rocket-engine testing site near Los Angeles. The film is an exploration into the site's long history of cover-ups and negligence by site owners Boeing, NASA, and the Department of Energy. It also tells the harrowing story of how a community of mothers have dealt with the struggles of childhood cancer and their new found life of environmental advocacy.
* * *
Dark Circle
An award-winning, anti-nuclear film by SF Bay PSR member Judy Irving, and Christopher Beaver and Ruth Landy
For every ticket purchased, $2 will be donated to Physicians for Social Responsibility! (Thank you Judy!)
It's been 75 years since the start of the Atomic Age, with the U.S. nuclear bombing of Hiroshima and Nagasaki killing hundreds of thousands of civilians, but its trail of destruction has never ended.
Dark Circle covers both the period's beginnings and its aftermath, providing a scientific primer on the catastrophic power of nuclear energy while also relating tragic human stories detailing the devastating toll radioactive toxicity has taken on people and livestock—focusing in large part on Rocky Flats, Colorado, whose plutonium processing facility infamously contaminated the surrounding area.
Documentary Grand Prize winner at Sundance, Academy shortlisted for Best Documentary, and Emmy winner, Dark Circle is no less potent today than it was 40 years ago. The new 2K HD Restoration done at FotoKem was assisted by AMPAS and supervised by co-director Judy Irving.
"Dark Circle is one of the most horrifying films I've seen, and also sometimes one of the funniest (if you can laugh at the same things in real life that you found amusing in Dr. Strangelove). Using powers granted by the Freedom of Information Act, and sleuthing that turned up government film the government didn't even know it had, the producers of this film have created a mosaic of the Atomic Age. It is a tribute to the power of the material, and to the relentless digging of the filmmakers, that the movie is completely riveting. Four Stars!" – Roger Ebert, Chicago Sun-Times

SF Bay PSR Committee Meetings
Environmental Health Committee
NEXT meeting will be on Wednesday, March 8,  2023
7:00 pm, via Zoom
Meetings are held on Wednesdays, every other month.
EHC members continue to work energetically during the pandemic on wide-ranging collaborative efforts to engage health professional students and institutions to address the unceasing threats of our climate to our health. READ MORE.
Divestment/Investment Task Force
Next meeting will be on Monday, February TBA, 2023
Later time: 7:00pm, via Zoom
Meeting are usually held on the fourth Monday, every other month
Meeting ID: 864 2653 3538
Passcode: 410416
SF Bay PSR has joined forces with other NGOs and institutions to support a broad movement pushing for individual and institutional divestment from the fossil-fuel industry and investment in the alternative energy sector. READ MORE.
Nuclear Weapons Abolition Committee
Next meeting date Thursday, February 9, 2023.
7:00 pm PT, via Zoom
Meetings are held on the second Thursday, every other month.
NWAC is composed of health professionals and others working locally to influence public awareness, civic engagement, and national policy to build a nuclear weapons free world. Toward the latter, we frame our work through our Back from the Brink campaign and its policy platforms. READ MORE.
To join a committee please email info@sfbaypsr.org