EVENTS
You're invited! Our 2021 events series focuses primarily on the connections between climate change, health inequities, systemic racism, and nuclear abolition.
Below please find events hosted by SF Bay PSR and other PSR chapters, as well as important events of interest to members. Please click the sign-up button above to receive our monthly events email. Events are open to everyone (not just health professionals).
SAVE the DATE! SF Bay PSR's Annual GALA! Wednesday, September 22, with keynote speaker Daniel Ellsberg!
Thank you to Jacob Rosen and Unsplash.com for the photo.
The Public Health Threat of Policing and Mass Incarceration
Wednesday, May 26, 7:00-8:30pm, PT, online
On April 11, 2021, Duante Wright, a Black man, was killed by a white police officer, just miles from where George Floyd was murdered. In 2020, an average of three people were killed by the police every day of the year.
The highly respected medical journal, The Lancet, and the CDC both state that racism is a serious threat to public health. As healthcare professionals we know that an ounce of prevention is worth a pound of cure. We need to direct more funds and efforts toward improving preventative systems, supporting communities, and advancing antiracism efforts, and away from policing and incarceration. Policing is supposed to protect, not threaten lives, and yet Black people are killed by police at 2.6 times the rate of white people. The constant stress and fear this causes as well as the trauma every time another person of color is killed, creates long-term health harms. Mass incarceration adds to this burden by harming more than rehabilitating. We must reimagine and reform our social systems so that they protect public health.
We will explore these issues and more with expert guest speakers Zach Norris, executive director of the Ella Baker Center and Dr. Jennifer James, bioethics researcher, professor, and Black feminist scholar at UCSF. Please join us.
Jennifer James, PhD, MSW, MSSP is an Assistant Professor in the Institute for Health and Aging, the Department of Social and Behavioral Sciences, and the Bioethics program at the University of California, San Francisco. Dr. James is a qualitative researcher and Black Feminist scholar whose research lies at the intersection of race, gender, and health. Her current work is focused on experiences of aging, health, and illness for people who are or have been incarcerated.
Dr. James will give a very brief history of carceral health and healthcare, talk about the current moment of COVID-19 and what that has shown us about health and healthcare for those living and working in prisons and jails. We will discuss what role physicians and other healthcare workers/researchers can play, ethical questions surrounding expanding healthcare for those who are incarcerated, and the pros and cons of incrementalist vs abolitionist approaches.
text for space
Zach Norris is the executive director of the Ella Baker Center for Human Rights, author of Defund Fear: Safety Without Policing, Prisons, and Punishment, and co-founder of Restore Oakland, a community advocacy and training center that will empower Bay Area community members to transform local economic and justice systems and make a safe and secure future possible for themselves and for their families. Zach is also a co-founder of Justice for Families, a national alliance of family-driven organizations working to end our nation's youth incarceration epidemic.
Norris contends that we can't take care of public safety if we haven't taken care of the public. He will discuss how we move public policy toward an understanding of safety that is grounded in public health, including organizing strategies to shift elected officials' perception of who is considered part of the public in the first place.
READINGS & RESOURCES

Defund Fear: Safety Without Policing, Prisons, and Punishment, by Zach Norris, has been praised by Forbes, the San Francisco Chronicle, the Boston Globe, and Kirkus Reviews.
Please support Marcus Bookstore, the nation's oldest Black-owned independent bookstore based in Oakland, CA, or your local bookstore by purchasing this book from them, or Bookshop.org, click here.
The Guardian: Police killings of Black Americans amount to crimes against humanity, international inquiry finds
International Commission of Inquiry: REPORT on Systemic Racist Police Violence Against People of African Descent in the U.S.
The Lancet: Racism is a Public Health Crisis
CDC: Racism is a Serious Threat to the Public's Health
NEJM: How Structural Racism Works—Racist Policies as Root Cause of U.S. Racial Health Inequities
NY Times: Throughout Trial Over George Floyd's Death, Killings by Police Mount
Berkeley News: After a blitz of police killings, reformers focus on the power of their unions
Obama.org: Community policing Tool Kit
Washington Post: Police Shooting Database
1 A Radio Show: How Policing Works in the Suburbs
Black Feminisms: Are Prisons Obsolete? Angela Davis on Mass Incarceration
Movie night!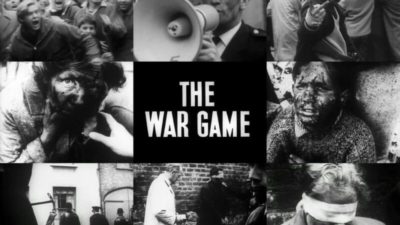 The War Game: A film by Peter Watkins with commentary by Ira Helfand
Hosted by Massachusetts Peace Action
Wednesday, May 12, 2021, 4:00 pm PT (7:00 pm ET)
REGISTER HERE
Join us for a showing of The War Game, by Peter Watkins. Winner of the Academy Award for Best Documentary Feature, this 45-minute film envisions an escalating war between NATO and the USSR resulting a nuclear attack on Great Britain. Originally written for the BBC, the film was deemed too provocative by the British Broadcasting Company.
World-renowned film critic Roger Ebert gave the highest praise, and a perfect score, to The War Game: "They should string up bedsheets between the trees and show The War Game in every public park. It should be shown on television, perhaps right after one of those half-witted war series in which none of the stars ever gets killed…. it should be shown to the leaders of the world's nuclear powers, the men who have their fingers on the doomsday button."
We're honored to have received a video montage and message from the filmmaker himself, Peter Watkins. After viewing the 45-minute film we'll be joined by internationally recognized expert on nuclear weapons, Dr. Ira Helfand, to take your questions and lead a discussion.
Ira Helfand, MD is a member of the International Steering Group of the International Campaign to Abolish Nuclear Weapon, ICAN, the recipient of the 2017 Nobel Peace Prize, and Immediate past president of the International Physicians for the Prevention of Nuclear War, the founding partner of ICAN and itself the recipient of the 1985 Nobel Peace Prize. He is also past president of Physicians for Social Responsibility, IPPNW's US affiliate. He is active in the Back from the Brink campaign.  Dr. Helfand was educated at Harvard College and the Albert Einstein College of Medicine. Dr. Helfand co-authored PSR's report, Nuclear Famine: 2 Billion at Risk?, which outlines the global health consequences of regional nuclear war. He was a leading medical voice in ICAN's campaign for the Treaty on the Prohibition of Nuclear Weapons. Dr. Helfand addressed government delegations at international conferences on the Humanitarian Impact of Nuclear Weapons in Oslo, Norway, Narayit, Mexico, and during the May 2016 U.N. Open-Ended Working Group on disarmament in Geneva, and throughout the U.N. General Assembly negotiations in 2017.
*  *  *
tetxt for space
In the Dark of the Valley
A film featuring PSR-LA's Dr. Bob Dodge and Denise Duffield!
Note: We will add a link to streaming options as soon as we receive it.
In the Dark of the Valley is the first feature film to focus on the Santa Susana Field Laboratory, a former nuclear and rocket-engine testing site near Los Angeles. The film is an in-depth exploration into the site's long history of cover-ups and negligence by site owners Boeing, NASA, and the Department of Energy. It also tells the harrowing story of how a community of mothers, led by Melissa Bumstead, have dealt with the struggles of childhood cancer and their new found life of environmental advocacy.
text for space
text for space
text for space
e* * *
Dark Circle
An award-winning, anti-nuclear film by SF Bay PSR member Judy Irving, and Christopher Beaver and Ruth Landy
For every ticket purchased, $2 will be donated to Physicians for Social Responsibility! (Thank you Judy!)
It's been 75 years since the start of the Atomic Age, with the U.S. nuclear bombing of Hiroshima and Nagasaki killing hundreds of thousands of civilians, but its trail of destruction has never ended.
Dark Circle covers both the period's beginnings and its aftermath, providing a scientific primer on the catastrophic power of nuclear energy while also relating tragic human stories detailing the devastating toll radioactive toxicity has taken on people and livestock—focusing in large part on Rocky Flats, Colorado, whose plutonium processing facility infamously contaminated the surrounding area.
Documentary Grand Prize winner at Sundance, Academy shortlisted for Best Documentary, and Emmy winner, Dark Circle is no less potent today than it was 40 years ago. The new 2K HD Restoration done at FotoKem was assisted by AMPAS and supervised by co-director Judy Irving.
"Dark Circle is one of the most horrifying films I've seen, and also sometimes one of the funniest (if you can laugh at the same things in real life that you found amusing in Dr. Strangelove). Using powers granted by the Freedom of Information Act, and sleuthing that turned up government film the government didn't even know it had, the producers of this film have created a mosaic of the Atomic Age. It is a tribute to the power of the material, and to the relentless digging of the filmmakers, that the movie is completely riveting. Four Stars!" – Roger Ebert, Chicago Sun-Times
"You owe it to yourself to see this chilling documentary. A much-needed warning sign on a very dangerous road. Rated: A." – People Magazine
Other Events of Interest
Prohibiting the First Use of Nuclear Weapons Conference
Co-sponsored by PSR National
Saturday, May 15, 2021, 9:30 am PT (12:30 pm ET)
REGISTER HERE
A nuclear exchange between the U.S. and Russia would incinerate hundreds of millions of people immediately, and lead to a Nuclear Winter which would slaughter an estimated 7 billion of the Earth's 7.7 billion people, mostly through starvation. Building back civilization would require over 1,000 years [Daniel Ellsberg talk, 12/13/2020]. A U.S. nuclear first-strike against China would result in a similar catastrophe. These are the stakes. As a step toward reducing the danger of Nuclear War, a coalition of groups has called upon Congress to legislate – and the President to declare – that the United States will neither initiate nor threaten to initiate the first use of Nuclear Weapons. Declaring and legislating a No First Use policy would be a major step to help avoid: A US nuclear attack that escalates Russia or China attacking the U.S. due to a false alarm Violating the U.S. Constitution by a first strike act of war U.S. threats of a nuclear attack which amount to bullying and blackmailing other countries, and which carry unacceptable risk of starting a general nuclear war.
With the support of a growing number of members of Congress, and President Biden's 2019 statement that he has supported "No First Use" for twenty years, we have a real chance to take an important step toward reducing the risks of nuclear war in the next year by getting a No First Use policy declared and legislated into law!
Confirmed Speakers include: William Perry, Tom Collina, Kennette Benedict, Elaine Scarry, Ira Helfand, Zia Mian, Joe Cirincione, Joseph Gerson. Special greeting from Sen. Ed Markey.
* * *
Now, More Than Ever: Movement Building for Climate, Racial, and Health Justice
Hosted by UCSF School of Medicine Office of Population Health and Health Equity and the UCSF Center for Climate, Health, and Equity
May 20, 2021, 2:30-4:00 pm PT, online
REGISTER HERE
This is the third session of the series: Now, More Than Ever: Movement Building for Climate, Racial, and Health Justice. There has never been a more critical time for advancing health, equity and social justice while addressing climate change. This session will focus on the synergies between climate and racial justice movements and their promise in improving health, and community-based advocacy and policy initiatives to promote climate and racial justice in California and beyond.
Kirsten Bibbins-Domingo, PhD, MD, MAS; Veronica Garibay, MPA; Daniel Lowenstein, MD; Rupa Marya, MD; Amee Raval, MS; Linda Rudolph, MD, MPH; Alvaro S. Sanchez, MUP; Sheri Weiser, MD, MPH, MA
* * *
The course below has already started but you could still join.
UCSF's Medicare for All Elective
Hosted by UCSF Medical Students
March 30 – June 8, 2021, at Noon, online
REGISTER HERE
All are welcome, but you may only receive credit if you are a UCSF student. It is completely free, so please forward widely!
Interested in health policy? Think everyone deserve access to healthcare? Want to hear from thought leaders across multiple fields from all around the country?  The incredible roster of speakers from different backgrounds (physicians, nurses, politicians, economists, journalists) will speak to the prudence and urgency of a single-payer health system in the United States. If you are interested in single-payer or even curious about what Medicare for All means, please come to this exciting new elective lecture series!
Racial Equity Reading Group
Next discussions, usually on Wednesdays, May 19, June 30, September 30 (Thursday), November 17
7:00 pm PT, online
To join please email tara@sfbaypsr.org.
All are welcome (not just health professionals).
You're invited! SF Bay PSR has launched an informal reading and discussion group to learn more about issues of structural racism and inequity, particularly as they negatively impact public health and medicine.
READ MORE.
SF Bay PSR Committee Meetings
Environmental Health Committee
NEXT meeting will be on Wednesday, June 16, 2021, 7:00 pm, via Zoom.
Meetings are held on Wednesdays, every other month on Feb 17, April 21, June 16, Aug 18, Oct 20, Dec 15
EHC members continue to work energetically during the pandemic on wide-ranging collaborative efforts to engage health professional students and institutions to address the unceasing threats of our climate to our health.
Nuclear Weapons Abolition Committee
NEXT meeting will be on Thursday, May 13, 2021, 7:00 pm, via Zoom
Meetings are held on Thursdays, every other month on Jan 14, Mar 11, May 13, July 8, Sept 9, Nov 11
NWAC is composed of health professionals and others working locally to influence public awareness, civic engagement, and national policy to build a nuclear weapons free world. Toward the latter, we frame our work through our Back from the Brink campaign and its policy platforms.
To join a committee please email tara@sfbaypsr.org
Read more about our committees on the EHC and NWAC pages.
SF Bay PSR Hosted Events Calendar