EVENTS
You're invited! Our events are open to everyone (not just physicians).
Happy New Year! We are back from holiday break and looking forward to providing you with the news and resources you need to stay informed and advocate for change in 2022.
This weekend the world is celebrating the one-year anniversary of the United Nation's Treaty on the Prohibition of Nuclear Weapons (TPNW) that entered into force on January 22, 2021—a momentous step forward in global denuclearization efforts that, in the midst of the volatile U.S. – Russian confrontation over the Ukraine, underscores our resolve to end the nuclear weapons era once and for all.
Below please find many events marking the Treaty anniversary and providing crucial information for our advocacy efforts. Also, please find events related to climate health activism in California and our upcoming SF Bay PSR committee meeting dates.
Missed a 2021 event? WATCH archived events here!
Please click the sign-up button above to receive our monthly events email.
Click here for ACTION ALERTS including anti-nuclear vigils the weekend of January 22, 2022.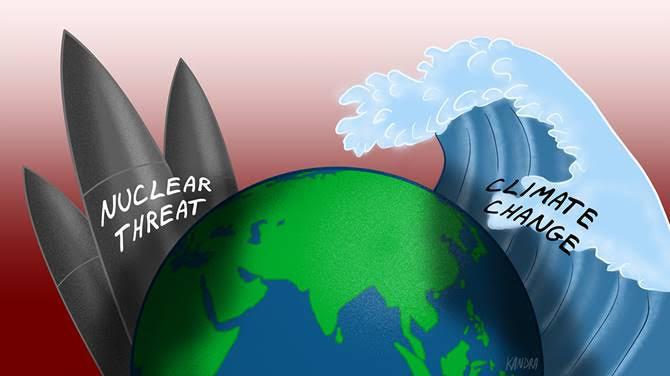 Climate Change and Nuclear War: What We Can Do About the Twin Existential Threats
Hosted by Massachusetts Peace Action
Saturday, January 22, 11am PT / 2:00pm ET, online
REGISTER HERE
Dr. Ira Helfand, co-chair of National PSR's Nuclear Weapons Abolition committee, will be speaking.
The webinar will focus on how climate change increases the danger of nuclear war and how a nuclear war would cause further catastrophic climate disruption. This case study of South Asia will show the way the twin existential threats of climate and nuclear risks interact in a way that threatens us all. Solutions such as the Treaty on the Prohibition of Nuclear Weapons (TPNW) and the Green New Deal that enable us to confront the threats will also be addressed.

Nuclear Colonialism in the Age of the Ban Treaty: From New Mexico to the Marshall Islands
Hosted by the Manhattan Project for a Nuclear-Free World and co-sponsors
Tuesday, January 25, 10am PT / 1pm ET, online
REGISTER HERE
The Affected Communities Working Group of the Nuclear Ban Treaty Collaborative will host a discussion marking the one-year anniversary of the entry into force of the Treaty on the Prohibition of Nuclear Weapons. This free online webinar "seeks to tell the truth through the lived experience of those most affected by the nuclear fuel trajectory and activate our collective work toward disarmament."
text for space

The Path to Climate-Smart Net-Zero Emissions Health Care grand webinar series
Hosted by Health Care Without Harm US and the Global Consortium on Climate and Health Education at Columbia University
PART 1: Climate, Health Care and the Race to Zero: A Call to Action
Thursday, January 27, 8am PT/ 11am ET, online
REGISTER HERE
This inaugural grand rounds session will highlight how the Global Roadmap for Health Care Decarbonization can help the health care sector meet the goals of the Race to Zero – to halve emissions by 2030 and achieve net-zero emissions by 2050 – and why clinician leadership is critical in meeting this goal. READ MORE.
text for space

Conference: Reducing the Threat of Nuclear War: Rebuilding a Broader Movement
Hosted by Massachusetts Peace Action and Radius
Saturday, January 29, 11am–3pm PT / 2–6pm ET
REGISTER HERE
Dr. Bob Gould, SF Bay PSR board president, will be participating in afternoon Breakout Session F, "Fund Healthcare Not Warfare; Recruiting in the Public Health Community," starting 1:15pm PT / 4:15 ET.
With Congress appropriating funds for new and upgraded nuclear weapons and delivery systems, the need to counter these misguided policies has become acute. The 2022 Conference will follow the general pattern of previous conferences, but with increased emphasis on coordinating efforts of advocates, and expanding outreach to organizations and constituencies outside the world of nuclear disarmament advocates.
text for space

Health Crisis of War: Making War a Priority Health Agenda
Sponsored by the Medical University of South Carolina (MUSC) Department of Public Health Sciences and MUSC Center for Global Health
Friday, February 4, 6am–2pm PT / 9am–5pm ET, online
REGISTER HERE
Dr. Bob Gould, SF Bay PSR board president, will be speaking at 11:35-11:50am PT / 2:35-2:50pm ET on "Public Health Costs of Nuclear Weapons: Seeking Alternative Visions for Human Health, Security and Survival."
Speakers will discuss how war and armed conflicts are relentless events, producing devastating effects on the wellbeing of populations, especially the vulnerable (children, disabled, refugees, etc.). Despite the grave effects on populations and its preventable nature, war is still not considered a global or local public health priority issue. This symposium will host a panel of presenters that will deliberate the health crisis of war, highlighting case studies from around the world and its impact on health workers, health facilities, humanitarian work, vulnerable populations and undertakings of global health research, among the many other impacts.
text for space

350 Bay Area's California State Legislative Training
Sunday, February 6, 1–4pm PT, online
REGISTER HERE
Join 350 Bay Area's annual California State Legislative Training to get skilled up in how to be part of the action. No prior experience needed; they'll demystify the legislative process to get climate bills passed. The CA legislature will reconvene in January for its 2022 session.


NorCal Mini Symposium on Climate, Health, and Equity
Organized by Stanford, UC Davis, and UCSF medical students
Wednesday, February 16, noon-1pm PT, online
REGISTER HERE
Climate change is a health risk multiplier, disproportionately impacting communities made vulnerable by racism and poverty. Come learn from leaders in the field how communities are preparing and what role health professionals can play in effective partnership.
Featured speakers include Ms. Margaret Gordon, community activist and founding member of the West Oakland Environmental Indicators Project (WOEIP) and Dr. Gaurab Basu, Co-Director of the Center for Health Equity Education and Advocacy at Cambridge Health Alliance Instructor, Harvard Medical School.

A special Racial Equity Reading Group Discussion
2022 meeting dates and readings will be posted early next year.
To join the discussion, please email Tara@sfbaypsr.org. All are welcome (not just health professionals).
Join our almost-monthly informal reading and discussion group to learn more about issues of structural racism and inequity, particularly as they negatively impact public health and medicine.
FIND past reading lists and more info about our RERG here.
text for space

Movie night!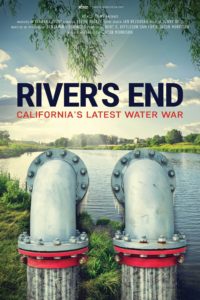 River's End: California's Latest Water War
Do you know where your water comes from?
River's End reveals California's complex struggle over who gets fresh water, and how moneyed interests game the system. Constant battling over uncertain water supplies heralds an impending crisis—not just in California, but around the world.
In the Dark of the Valley
A film featuring PSR-LA's Dr. Bob Dodge and Denise Duffield!
In the Dark of the Valley is the first feature film to focus on the Santa Susana Field Laboratory, a former nuclear and rocket-engine testing site near Los Angeles. The film is an exploration into the site's long history of cover-ups and negligence by site owners Boeing, NASA, and the Department of Energy. It also tells the harrowing story of how a community of mothers have dealt with the struggles of childhood cancer and their new found life of environmental advocacy.
Dark Circle
An award-winning, anti-nuclear film by SF Bay PSR member Judy Irving, and Christopher Beaver and Ruth Landy
For every ticket purchased, $2 will be donated to Physicians for Social Responsibility! (Thank you Judy!)
It's been 75 years since the start of the Atomic Age, with the U.S. nuclear bombing of Hiroshima and Nagasaki killing hundreds of thousands of civilians, but its trail of destruction has never ended.
Dark Circle covers both the period's beginnings and its aftermath, providing a scientific primer on the catastrophic power of nuclear energy while also relating tragic human stories detailing the devastating toll radioactive toxicity has taken on people and livestock—focusing in large part on Rocky Flats, Colorado, whose plutonium processing facility infamously contaminated the surrounding area.
Documentary Grand Prize winner at Sundance, Academy shortlisted for Best Documentary, and Emmy winner, Dark Circle is no less potent today than it was 40 years ago. The new 2K HD Restoration done at FotoKem was assisted by AMPAS and supervised by co-director Judy Irving.
"Dark Circle is one of the most horrifying films I've seen, and also sometimes one of the funniest (if you can laugh at the same things in real life that you found amusing in Dr. Strangelove). Using powers granted by the Freedom of Information Act, and sleuthing that turned up government film the government didn't even know it had, the producers of this film have created a mosaic of the Atomic Age. It is a tribute to the power of the material, and to the relentless digging of the filmmakers, that the movie is completely riveting. Four Stars!" – Roger Ebert, Chicago Sun-Times

SF Bay PSR Committee Meetings
Environmental Health Committee
NEXT meeting will be on Wednesday, March 16, 2022
7:00 pm, via Zoom
Meetings are held on Wednesdays, every other month.
EHC members continue to work energetically during the pandemic on wide-ranging collaborative efforts to engage health professional students and institutions to address the unceasing threats of our climate to our health. READ MORE.
Divestment/Investment Task Force
Next meeting will be on Monday, January 24, 2022
6:00pm, via Zoom
Meeting are usually held on the fourth Monday, every other month
Meeting ID: 864 2653 3538
Passcode: 410416
SF Bay PSR has joined forces with other NGOs and institutions to support a broad movement pushing for individual and institutional divestment from the fossil-fuel industry and investment in the alternative energy sector. READ MORE.
Nuclear Weapons Abolition Committee
Next meeting will be in February, TBA, 2022
7:00 pm PT, via Zoom
Meetings are held on Thursdays, every other month.
NWAC is composed of health professionals and others working locally to influence public awareness, civic engagement, and national policy to build a nuclear weapons free world. Toward the latter, we frame our work through our Back from the Brink campaign and its policy platforms. READ MORE.
To join a committee please email tara@sfbaypsr.org