At our Annual Gala on September 22, 2021, we presented three awards to early career/student health professionals for outstanding achievements in health activism in environmental justice and anti-racism in medicine, and the climate crisis and health.
Our awardees are given a certificate and $250 each.
CONGRATULATIONS! You three inspire all of us at SF Bay PSR!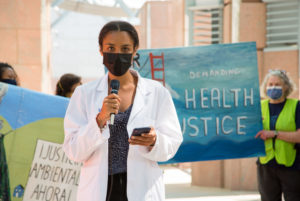 Aude Bouagnon, PhD, is a neuroscientist and medical student and is on the board of SF BAY PSR. She is a council member of UCSF Center for Community Engagement/Anchor Initiative, active in White Coats for Black Lives and is a founding member of the REPAIR Project, an initiative aimed at addressing anti-Black racism in medicine and science. She is the daughter of immigrants and is passionate about global health equity and environmental justice. She was the spokesperson at BVHP Earth day event and an SF BAY PSR co-organizer and speaker at Health Professionals against Line 3 Event and co-organizer of Environmental Justice Group protest at CAL EPA. Most importantly, Aude is a deeply caring environmentalist who cares about everyone and everything.
Jonathan Lu grew up in Fremont, California, and his parents are Chinese immigrants who worked in software. He is a currently a third-year medical student at Stanford, where he helped co-found and co-build the Stanford Climate and Health community which is now taking action on community advocacy, sustainable healthcare, education and symposium, including organizing. He's been blessed and privileged to be in a kind community working toward a livable, sustainable and equitable future, and wants the same power for all people and communities.
Christina (Xiaoxuan) Chen is a 3rd-year MD/MS student at the UC Berkeley-UCSF Joint Medical Program, the Global Health Sub-chair at Medical Students for a Sustainable Future (MS4SF), and the co-founder of Health Students for Climate Action (HEALS-CA) at the UC Berkeley School of Public Health. For her master's thesis, she is interviewing youth climate justice activists to identify the sources of hope and resilience, as well as ways that health professionals and others working with youth can best support their mental health. She has helped to organize events like a pre-election voter's education panel on environmental health, presented at a local high school on the health effects of climate change, and is currently working on an education and resilience campaign to prepare local communities for the wildfire season, while planning for the virtual NorCal Symposium on Climate, Health, and Equity.