OCTOBER 12, 2023
We are thrilled to share below four impressive Emerging Health-Activist Awardees and updates on our exciting intern and early career projects.
The Emerging Health-Activist Awards were presented at our Annual Gala last month! If you missed the Gala, it will be posted on our YouTube channel soon!
We are also writing to ask for your support of our student and early career programs. Your gifts allow us to train young health activists and help to launch their careers. You can have a huge impact on their lives! DONATE HERE.
In this newsletter:
2023 Congrats to our Health-Activist Awardees!
2023 Intern Projects
2024 Internship application deadline is December 1
2023 Early Career Environmental Health Projects Updates
INVITE: Young health students and professionals— join a committee!

CONGRATS to our Emerging Health-Activist Awardees!
We are thrilled to announce the winners of SF Bay PSR's Emerging Health-Activist Awards, given to medical, public health, and heath science students, postgraduate trainees, and early career professionals. These young activists' outstanding achievements give us hope and uplift our entire diverse community of courageous, dedicated, and compassionate changemakers.
Each year we offer awards honoring work in any one of our chapter's three major areas of focus: nuclear abolition & peace, health equity & social justice, and environmental health.
Alison Chang is a third-year medical student at UCSF, where she has treasured the opportunity to actively engage in a community passionate about the impacts of climate change on health.
Alongside SF Bay PSR Member Dr. Katherine Gundling, she began to explore how healthcare providers can effectively engage patients in discussing their climate-related health risks in the clinic. Similarly, she is passionate about incorporating a greater emphasis on climate change in medical education; through her work on the Planetary Health Report Card with other student leaders, she aims to hold institutions accountable to addressing climate change as a public health emergency.She continues to be inspired mostly by patients and her fellow peers to advocate for sustainable, patient-centered changes that promote climate resilience at the systemic level. Congratulations Alison!
Valerie Kahkejian is a third-year medical student at UCSF. As a physician in training, she has sought to address the health impacts of environmental toxicity and climate change in her community, especially among the most vulnerable.
As a part of these efforts, she interned with Bayview Hunters Point Community Advocates to catalogue neighborhood hazardous waste sites, lead a team of UCSF students in filling out the Planetary Health Report Card assessing the university's commitment to addressing climate issues, and organized with the Interview Without Harm Coalition to advocate for the permanent adoption of virtual medical school interviews in an effort to create a more sustainable and equitable system.
She is interested in pursuing a primary care specialty so she can be on the front lines supporting marginalized populations as they face the brunt of environmental degradation and climate impacts. Congratulations Valerie!
Dr. Daniel Woolridge is a pediatrician and presently a member of the preclinical faculty in the UC Berkeley/UCSF Joint Medical Program, his alma mater. While a student there, he joined colleagues in forming a Diversity Inclusion Committee and Equity Council to facilitate the integration of minority students into the educational program.
During his UCSF pediatric residency, he volunteered as an advisor to the SF Board of Education as they were preparing to reopen schools after the pandemic. He witnessed there the Black, indigenous, peoples of color communities' mistrust of institutions, including health care, and how this adversely impacted their health behaviors as well as the failure of these institutions to recognize, acknowledge and address this mistrust.
Stemming from this and other experiences he initiated at Berkeley the Center for the Study of Medical Humanities and Scietometrics to address the lack of access to credible scientific and medical knowledge in communities outside the university. As part of this initiative, he co-created a lecture series In conjunction with the UC Berkeley Othering and Belonging Institute–to offer medical and science lectures for the general public, called the Medical Humanities and Abolition Medicine series. Abolition medicine refers to the integration of antiracist principles into the structure of the entire health system – from its fund of    knowledge to its personnel and practices.
In the Joint Medical Program at UC Berkeley, Dr. Woolridge facilitates core curriculum class on anti-racism, and he convenes a regular working group of faculty and staff at both UCB and UCSF to address injustices in medical information and practices. Congratulations Dr. Woolridge!
Dr. Herbert Castillo Valladares is an assistant professor of dermatology at UCSF.  Inspired by his own personal experiences as an undocumented immigrant, Dr. Castillo Valladares has sought to address the needs of migrant workers in our area. He collaborated with North Bay Jobs with Justice to advocate for better working conditions for Latinx workers during the Sonoma County wildfire season.
Armed with information on the adverse effects of wildfire smoke on skin health, he collaborated with a coalition of community members and migrant workers to persuade Sonoma wineries to provide hazard pay and a disaster insurance fund for their workers during wildfire season. This resulted in the development of a 3-million dollar disaster relief fund for them. Moreover, he visited many of these wineries to train their workers in the protections they needed to adopt for safer work during hazardous conditions.
Dr. Castillo Valladares also trained with Physicians for Human Rights to provide forensic medical evaluations for asylum applicants and then used this training to conduct medical forensic evaluations on refugees and asylum seekers in the Bay area. During his training, he recognized that skin findings were often key and could provide important evidence of different forms of torture. In recognition of the need to train dermatologists and other physicians in these skin manifestations, he has joined a small cadre of dermatologist in developing the field of forensic dermatology. He is presently directing a group of medical students in the development a pilot curriculum on forensic dermatology at UCSF. Congratulations Dr. Castillo Valladares!
PLEASE GIVE to our Tom Hall Student and Young Health Professional Fund!
You can have a huge impact on their lives! DONATE HERE.


SF Bay PSR Intern Projects
Every year our interns contribute to our overall advocacy efforts, learn how to incorporate activism into their health professional careers, and produce inspiring projects. We are thrilled to share their 2023 projects with you! Thank you to our interns for their important contributions!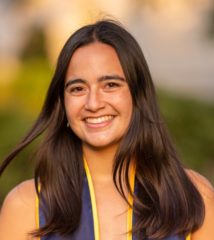 SF Bay PSR 2023 Intern Sienna Marley is a UCLA public health graduate student. For her internship project, she worked with Western States Pediatric Environmental Health Specialty Unit (WS PEHSU) at UCSF to complete High School Climate Justice Curricula.
Sienna writes: This past summer I was fortunate enough to develop a high school climate justice curricula alongside the Western States Pediatric Environmental Health Specialty Unit. This project has included building curriculum on topics around extreme heat, wildfire smoke exposure, and environmental justice. By using the frameworks of social justice, the material seeks to cover climate-centered events from a health perspective. It specifically highlights hyper-vulnerable populations, such as women and children. Activities within each topic include interactive statewide mapping tools, multimedia platforms, and mental health exercises. Additionally, we sought to include a series of synchronous action items and journal prompts to encourage students to engage with environmental advocacy and make health interventions within their own lives.
This project has taught me so much about accessibility in education, storytelling, and the creative process of teaching. In the context of our changing world, it has underlined the urgency for youth to have the knowledge and tools to protect themselves and the health of future generations. The skills that I learned in this project will absolutely translate into my future graduate school education and career goals. It has shown me a different side of education and deepened my understanding of environmental health and activism.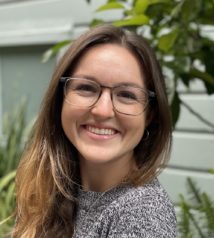 Lilah Blalock, UCSF medical student, contributed a bookmark and high school curriculum to help educate youth about the health harms of gas stoves. These projects build upon her internship project last year creating our Health and Environmental Benefits of Building Electrification (BE) Infographics series designed to amplify building electrification resources and health harms of gas appliances information.
See the infographics series and learn more about the health benefits of building electrification on our Building Electrification webpage!
*  *  *
INTERNSHIP APPLICATION
Deadline for 2024 internship:


Extended to December 15, 2023
SF Bay PSR's internship program is designed to teach the next generation of health professionals activism, leadership, and advocacy skills in our areas of concentration: nuclear weapons abolition, climate change, environmental health, and intersecting social and racial justice issues.
Who can apply? Primarily public health, pre-med, medical, nursing, or other students (enrolled or in between degrees) who are interested in incorporating activism into their professional health career.
Internships are from January 2023 – January 2024. Interns are paid an hourly rate of $20 and classified as a non-exempt employee. Work hours fluctuate from 5-8 hours per week with about three evening meetings and events per month, mostly online.

Early Career Environmental Health Project Support
SF Bay PSR Environmental Health committee members actively participate in the expansion of climate-and-health education at UCSF and Stanford and support young health professional activism. Recent activities include mentoring medical students to develop leadership skills in environmental health justice, advocating for more virtual and sustainable conferences and interviews, and leading discussions and class sessions on the intersection of climate change and health.
We have a few updates to report!
Congratulations to SF Bay PSR member and mentor Dr. Barb Erny!
Dr. Barb Erny has shown great dedication to mentoring and educating our next generation of health-activists. Her leadership was recently celebrated in Stanford University's Center for Innovation in Global Health newsletter, "Celebrating Women Leaders in Climate and Health."
Also, SF Bay PSR 2022 Awardee India Rogers-Shepp is included in this prestigious list of women climate-health leaders!
*  *  *
Update on UCSF Resident Dr. Katie Lichter's projects!
Dr. Lichter has been working to reduce waste, carbon emissions in medical care and education, and to create sustainable, climate-smart, radiation oncology care. Building upon her earlier projects supported by SF Bay PSR, she most recently worked with numerous students, residents, and faculty to convince ASTRO, the "most influential society of radiation oncologists in the world," to become more sustainable! The idea is for the ASTRO conference to become a sustainability model for other medical conferences.
This year's ASTRO conference was marked by several notable climate wins:
Virtual Attendance and Sustainability: In response to the current global context, ASTRO offered virtual and hybrid attendance options for the first time, allowing a broader audience to participate in the conference. Sustainability was a theme throughout the event, reflecting ASTRO's commitment to environmental responsibility, which you can learn more about here at ASTRO's commitment to sustainability.
Climate Change Policy Statement: ASTRO's commitment to addressing climate change was prominently featured, with the policy statement displayed on all conference badges.
Sustainability in Fundraising: The 5k fundraising event made public commitments and actions towards sustainability, demonstrating our dedication to reducing our environmental impact (e.g., replaced medals with reusable water bottles, no plastic water bottles/cups, locally sourced food, etc.)
Educational Sessions: They hosted two education sessions focused on climate-related topics (e.g.,, resiliency and mitigation) and numerous residents presented posters on emerging research within this area.

You are invited!
And so are your peers and colleagues! Join us!
JOIN our Environmental Health Committee
We are seeking young health professionals, students, and advocates interested in working toward a world where everyone is free of the existential threats of the climate crisis and environmental degradation. As a committee member, you will have the opportunity to gain committee support for your own projects and work on group projects to support environmental justice allies, influence policy makers, and advocate for climate, environmental, and public health.
To join email info@sfbaypsr.org
JOIN our Nuclear Weapons Abolition Committee
We are seeking young health professionals, students, and advocates interested in peace activism to join our Nuclear Weapons Abolition Committee. As a member of the committee, you will champion the next wave of the peace and nuclear abolition movement alongside experienced activists and advocates in the region. You will bring your intersectional perspective and interests to the development of new strategies and programs, driving forward policy making, organizing, and outreach activities.
To join email info@sfbaypsr.org
PLEASE GIVE to our Tom Hall Student and Young Health Professional Fund!


You can have a huge impact on their lives! DONATE HERE.