March 2023
We are thrilled to welcome our 2023 intern Sienna Marley! And we say thank you, farewell, and best wishes to our 2022 intern Allie Smith. Please take a moment to read about these two inspiring emerging health activist voices!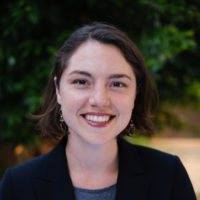 Farewell to our 2022 Intern Allie Smith!
1. I am so grateful that this internship gave me the chance to learn about the many policies that SF Bay PSR advocated for in 2022. It was a unique experience to track bills and regulation changes from their "start" and see the support and collective action build for those policies over the course of several months. Helping with the administrative side of this work allowed me to learn so much about these issues, who supported them and why, and what may have propelled them toward success or failure. I know that having this background information on such a wide range of environmental health issues and their policy contexts will aide me in my career. Relatedly, these activities really helped me learn just how many environmental health advocacy organizations there are in California and how each one plays a different role. It was so valuable to see how these organizations work together, as well, to support dozens of important issues!
2. I am also so grateful for the many opportunities I had to be mentored by folks at SF Bay PSR. This internship allowed me opportunities to craft and deliver public comment, write advocacy letters, and learn about non-profit fundraising and communications strategies. I am indebted to the time and patience of many staff and members who guided and supported me in those activities.
3. I learned through all of you the importance of centering joy and compassion in our advocacy work. At each SF Bay PSR meeting or event that I attended there were many moments of celebration, laughter, and encouragement that filled in the gaps in our discussion of the serious environmental health issues that drove us all to join this organization. I have been a part of other organizations where our passion for the issues led us to exhaustion, burnout, and feelings of inadequacy. I feel very lucky to have seen what it means to practice the opposite of that culture in SF Bay PSR's work. I hope to carry these practices with me wherever I go next so that I can be in this for the long-haul!
Next steps: I will be graduating from my MPH program this May and looking for career opportunities that combine my interests in environmental epidemiology, health equity, and community-driven policy advocacy. I plan to stay in the Bay Area, so I look forward to crossing paths with many of you in the future!
Welcome our 2023 Intern Sienna Marley!
Sienna is a recent UC Berkeley graduate who studied Public Health and Forestry. She is currently taking a gap year exploring different medical professions, including working as a Medical Assistant and studying to become an EMT.
While pursuing a bachelor's degree in Public Health and Forestry, she developed a passion for the intersection between the environment and human health. Her efforts focused toward translating local public health issues into sustainable and inclusive solutions for underserved and isolated communities. As an Honor Fung Fellow, she worked with the Hoopa Valley Tribe and Tribal EPA to mitigate toxic algal blooms in the Trinity River. Alongside Tribal EPA members, her team co-designed an accessible and interactive podcast surrounding environmental health literacy to assist this high-risk population. The goal of this podcast was to actively connect community members to resources through human centered design, enhancing her interest in environmental activism in research.
In addition, she led as a Student Liaison for her University Health Services Green Team. Here she won a grant for increasing sustainability practices and implemented a Green Kitchen Initiative in collaboration with student garden organizations.
Her passion for the environment continued to be translated through research. Her senior thesis examined over 10,000 plants within the Viridiplantae and analyzed the different adaptations these plants utilized under varying light conditions. Understanding plant genetics showed her the different molecular tools used to increase biomass yield and access to healthier foods. Most recently, as a Biological Science Technician with USGS in Sequoia National Park, she collected data on high severity wildfires and saw the direct community response to this natural disaster. She saw herself in these local public health roles helping the community to recover. She is excited to continue exploring the interdisciplinary field of public health.
Sienna will be supporting our Environmental Health Committee, tracking our policy advocacy efforts, helping with research and writing and more!