SEPTEMBER 21, 2023
Global Climate Marches to End Fossil Fuels
CA Sues Big Oil Companies!
Sept 2023: Ask Governor Newsom to sign AB 1167 into law and thank him for his other climate actions!
Sept 27, 2023: Support our Activism! Buy Tixs or Donate to our Gala Fundraiser!
Global Climate Marches to End Fossil Fuels
Across the globe we've seen climate marches to end fossil fuels in about 65 countries in the lead up, and now during, the United Nations' Climate Ambition Summit in New York. On Sunday alone, 75,000 people marched to end fossil fuels in New York, including a large contingent of scientists and health professionals. Among other actions, they blocked financial institutions, calling for the end to funding fossil fuels. Our own Governor Newsom gave a fiery speech at the UN, condemning fossil fuel companies for their decades of lies and destruction.
We thank our colleagues at PSR Pennsylvania and New York for their great efforts helping to organize the health contingent in Manhattan. And we send a huge BRAVO to Dr. Meg Whitman of SF Bay PSR and Dr. Harry Wang of PSR Sacramento for their efforts organizing health professionals and advocates to march in Sacramento, California! Thank you to all the health professionals and advocates who participated!
All of this comes as we lead up to the United Nations' Climate Conference (COP28) in United Arab Emirates, Nov-Dec this year!
ACTION
Together, we call on him to:
STOP FEDERAL APPROVALS for new fossil fuel projects and REPEAL permits for climate bombs like the Willow Project
PHASE OUT fossil fuel drilling on our public lands and waters
DECLARE A CLIMATE EMERGENCY to halt fossil fuel exports and investments abroad, and turbo-charge the build-out of more just, resilient distributed energy (like rooftop and community solar
PROVIDE A JUST TRANSITION to a renewable energy future that generates millions of jobs while supporting workers' and community rights, job security, and employment equity.
READ MORE
AXIOS: Thousands march to demand end to fossil fuels ahead of UN climate summit. Check out the great photo of activists in Sacramento!
Guardian: Tens of thousands in NYC march against fossil fuels as AOC hails powerful message
Below: Dr. Meg Whitman of SF Bay PSR and Dr. Harry Wang of PSR Sacramento carry our sick Earth on a stretcher during the march to end fossil fuels in Sacramento, CA. Photo credit: Janice Nakashima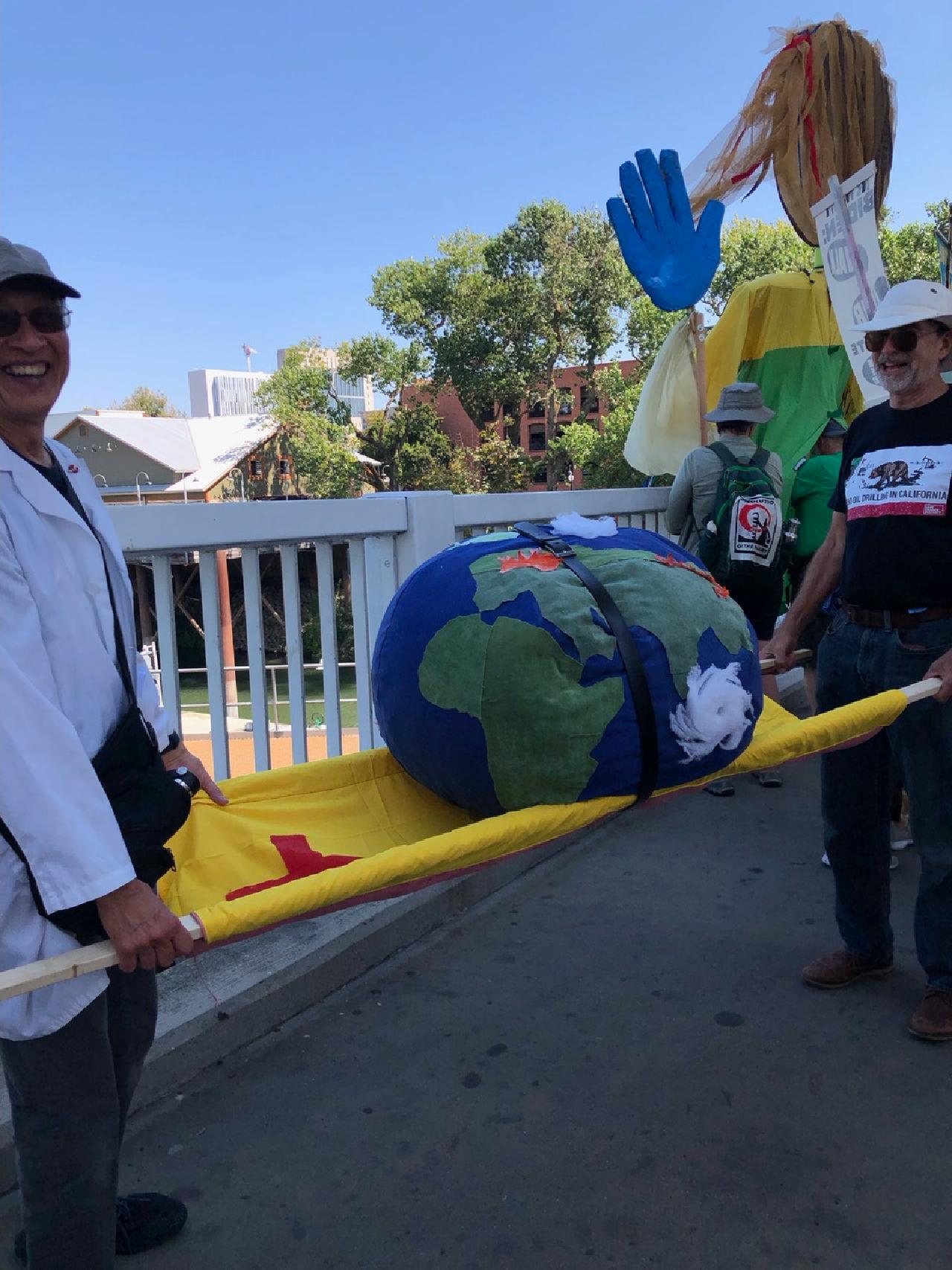 ****************************************************************************
California Sues Big Oil Companies
In addition to Governor Newsom's speech at the UN, this past weekend he announced that California, the fifth largest economy in the world, is suing Big Oil for their decades of deceit and climate destruction. This is a huge historic move that could spark more lawsuits across the world!
************************************************************************
Contact Governor Newsom
ACTIONS for September 2023.

Ask Governor Newsom to sign AB 1167 into law and thank him for his other climate actions!
CALL: 916-445-2841
1. Ask him to sign AB 1167 into law.
AB 1167 is the Orphan Well Bonding Requirements Act that will make the owners of orphaned and idle oil and gas wells pay for properly closing them to protect our communities and our climate — instead of taxpayers paying.
2. Thank him for filing the lawsuit against oil companies, and for signing AB 421 into law, and his intention to sign SB 253 and SB 261 into law.
AB 421 will enable EJ communities to protect health protective zones and help bring California one step closer to ending neighborhood drilling.
SB 253 is the Climate Corporate Data Accountability Act that will require U.S.-based corporations doing business in California that make over $1 billion annually to publicly disclose their full carbon footprint.
SB 261 is the Climate-Related Financial Risk Act that will require corporations, financial institutions, and insurers to report on climate-related financial risk.
We are also happy to see other bills that will help to electrify our homes, schools, school buses, and buildings pass the finish line!
*********************************************************************************
Do you appreciate our Action Alerts?
Please support our health-activist efforts!
SF Bay PSR's Annual Virtual Gala!
Wednesday, September 27, 2023, 6pm!
Don't miss out! The Gala will feature Dr. Cheryl Holder who is an inspiring leader in climate, health, and equity work. And include Emerging Health-Activist Awards, Music, and an Auction! Bid on a sail boat ride across the Bay! A week's stay in Tahoe! Fine art work! And so much more!
$100 General; $20 Community; $0 Students and Trainees