DECEMBER 20, 2022
Dear Friends:
As the new year approaches, we want to share with you some of our exciting 2023 projects, and some news from young health-professional activists who are poised to become our future leaders.
Please invest in our future today.

GIVE HERE.
We need to raise more funds to move these projects forward and advance health- and equity-centered solutions to our climate and nuclear threat crises.
In 2023, we hope to achieve the following and much more, but we need your help:
Advance a California climate plan centered on health, equity, and justice: SF Bay PSR Board President Dr. Robert Gould recently participated in a meeting with CARB Chair Liane Randolph to advocate for a public health advisory group composed of experts in climate, health, and equity. The advisory group would conduct on-going, comprehensive public-health equity analyses that would inform the implementation of the 2022 Climate Scoping Plan.
Promote Building Electrification for all (BE): BE is becoming more and more affordable and urgent as we continue to learn how indoor gas appliances harm our health and the climate. In 2023, we hope to host more public education events, create more useful resources, support more local communities' efforts, and continue providing public comments to shift city and counties toward a just and complete phase out of gas in buildings.
Support environmental justice for our Bay Area communities: In 2023, we will be following the lead of EJ groups in Richmond, Marin, and Bayview Hunters Point in San Francisco to ally with them in advocating for the clean-up of toxic and radioactive wastes in their communities. We will support them with administrative and health resources, communications, and more.
Launch a NEW Peace Project in collaboration with National PSR's Demand Access Campaign: Our new Nuclear Weapons Abolition organizer is developing a health-activism incubator that will work at the intersection of militarism, war, and conflict (MWC), and the climate and racial justice movements to build a new generation of health-professional activists who will safeguard the well-being of our planet. If we can raise the funds, the program will provide policy training, communications, and logistical support for an annual cohort of students and early-career health professionals.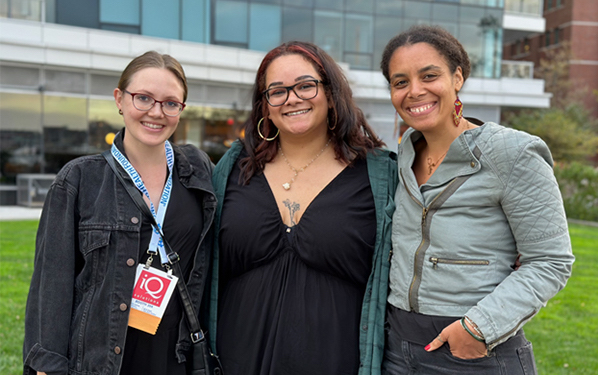 Pictured from left to right: SF Bay PSR NWA Coordinator Annie Cheney; National PSR Associate Director of Nuclear Weapons Abolition Program Jasmine Owens;
and SF Bay PSR Board Member Aude Bouagnon. Annie and Aude are members of National PSR's Demand Access Steering Committee.
Mentor our future leaders: At SF Bay PSR, we are so proud of our young health-professional members and hope to expand our support of them through internships, awards, mentorship, project funding, and curriculum development. READ our previous newsletter highlighting all their impressive projects in 2022.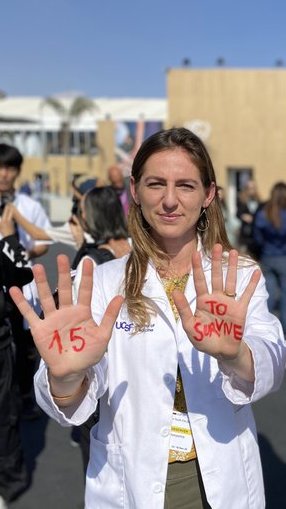 Here is a brief report from COP27 by Karly Hampshire, UCSF medical student and SF Bay PSR Awardee who traveled to the United Nation's Climate Conference, COP27, in November.
My three most important takeaways from COP27 include the following:
1. In the global climate movement, though the health voice is gaining traction, health is still not a mainstream part of discussions.
2. A lot can change in a few years! Five years ago, ~200 countries agreeing to a loss and damage fund would have been hard to envision. Its establishment during COP27 means that the global zeitgeist is shifting, thanks to the work of organizers all around the world.
3. Is COP a giant greenwashing festival? Yes. Does it also have value? Ye
Educate our members with Action Alerts, Events, News, and Resources: Also, we will continue working hard to send you the most important new studies, articles, events, and actions so that you can easily be well-informed and take action.
And that is just a smattering of all the projects and policy advocacy efforts that we hope to achieve in 2023. READ MORE in our 2022 Accomplishments Report! 
PLEASE INVEST in our children's and grandchildren's future.
Please DONATE HERE using our secure online system.
Or, if you prefer to mail your contribution to us, please send a check to:
SF Bay PSR, 548 Market Street, #90725, San Francisco, CA 94104. 
Any amount that you donate will be much appreciated and used well!
If you find it more cost effective to donate stock, please reach out to our Executive Director Marj Plumb to arrange for that transfer at director@sfbaypsr.org.
Together, we can protect communities, address our climate crisis, and help move the world toward peace. We hope you'll join SF Bay PSR and our network of more than 3,000 thoughtful, committed health advocates in the greater Bay Area in achieving more successes in 2023!
Wishing you a Happy New Year,
Dr. Robert M Gould
SF Bay PSR Board President
Dr. Tova Fuller
SF Bay PSR Board Vice President